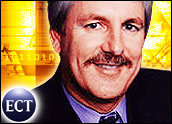 Let's just say the iPhone is the best generation-one product I can recall in the tech market — ever — in terms of hardware design and execution. But, much as Japan did in World War II, Apple merely stung the heck out of a number of big companies — and most of Asia as a geographical region. It wasn't, by any means, a killing blow.
Even FOSS (free and open source software) now has the companyin its sights, and open source has as loyal a following as Apple does. With the U.S. Independence Day celebration now over, let's explore the execution side of the iPhone this week — the part that didn't have to do with wonderful hardware — drawing comparisons both to Pearl Harbor andTransmeta vs. Intel. And let's talk about the likely better, next-generation iPod.
I typically choose a product of the week, but this time I'm so impressed withDreamWorks'"Transformers" movie, I'm going to tell you about that instead. Two thumbs — no, all ten fingers and ten toes up on this one.
Before I get started, one of the problems with the iPhone is that it won't sync with Exchange or Notes.Visto is working ona solution and expects to have it on the market in Q3. It will allow use of the Yahoo mail client on the iPhone, but won't do calendars or corporate contacts — you'll still have to sync or manually enter contacts depending on whether you are on Notes or Outlook. Keep your eyes on this. When it's cooked, I'll cover it here.
iPhone: Apple's Pearl Harbor
Apple has, up until now, embarrassed a lot of companies with the iPod. The response to Microsoft's Zune, which probably was the best-funded competitor, was incredibly humiliating for the company. Only SanDisk managed to marketa product that really did well in terms of numbers. Strangely enough, it too is based on Microsoft technology.
However, the MP3 market is vastly smaller and less important than the PC market. The cell phone market, on the other hand, is vastly larger — and entire countries, like South Korea, take pride in owning much of it.
Now, with Pearl Harbor, Japan's strategy was to inflict sufficient damage on the U.S. to prevent us from prosecuting a war in the Pacific. What they did instead was really piss us off, and the end result was anything but what they intended.
In tech, a more recent example was Transmeta versus Intel. When Transmeta launched, Intel, which had resisted changing from a desktop-based processor model to a mobile model, was caught napping. What Intel had at the time was simply not what the market wanted.
Had Transmeta been able to execute, it would likely be equal to AMD by now. Had Transmeta and AMD partnered and executed, the combination could have passed Intel by now — but neither happened. Instead, Intel got pissed, switched its strategy to one that was mobile-based, and many probably don't even recognize the Transmeta name today.
Apple and AT&T's Achilles' heel, I believe, is greed. From a hardware standpoint, Apple came up with a product that likely could take better than 30 percent of the massive cell phone market once it morphs into a complete line of phones.
However, cell phones are thin-margin devices, and Apple wants a massive margin. Consumers don't generally pay for corporate data rate plans, but AT&T wants as much as it can get as well. Both the phone and the plans that go with it areway too expensive for the market. From what the stores are saying, this is the primary reason cited for returns and for people not buying the iPhone right now. In addition, both Apple and AT&T had big problems getting staff up and running — and, worse, treated folks having problems horridly.
People who had waited for days and paid premium prices wereleft on hold for hours at a time and treated worse than if they had opted for a free phone with their plan. People who are committed enough to camp out for days to buy a product should receive special treatment; instead, those long-suffering folks were treated very poorly. That was just stupid.
The Coming Storm
Still, like Pearl Harbor and the launch of Transmeta, Apple stung the big guys badly the iPhone's debut, making the big firms look stupid in front of their customers, investors, partners, friends and families. People really don't like looking stupid, and now much of corporate Asia — which apparently believed that Apple would fall on its face — is ramping up to wage a war of biblical proportions against the company.
Microsoft Mobile, one of the best-executing groups in the company, is probably being dragged all over the carpet by Steve Ballmer and been given a budget — which it lacked — along with marching orders. Motorola, Nokia, Palm and Research In Motion (RIM) all agree on one thing: Apple must die.
As a result, I think we are going to see the most massive competitive ramp-up in technology history. People at the companies that build cell phones now realize that if they don't stop Apple, they mostly will be out of jobs. With generation-two iPhones due in October, Apple isn't making it any easier for them.
What these Apple competitors need to do is build sexy-looking phones that are vastly easier to use than what they currently offer. Examples on the market include theHTC Touch (this is what I carry), andNeonode N2. This can be done; Apple has shown how to do it with Unix, for Christ's sake.
As a side note, you should check out HTC. It is a tiny company with an impressive line of phones competitive with the iPhone — many actually have the missing keyboard. I think these guys are a sleeper company.
Transmeta and Japan both changed their worlds, but the changes that resulted were not the ones either had anticipated. Apple has built a stunning product, but it is not executing on service, manufacturing volume, or pricing to a level that will allow it to hold off the wave that is coming — unless those mounting the onslaught fall flat on their faces, which given this last week, is actually possible.
If Apple doesn't address the current issues, though, next time I point to an event like the iPhone launch, it may join Japan and Transmeta on the bad example list.
Hats off to the hardware and software guys who created the iPhone — they did their company proud. However, AT&T and the MBAs will likely kill the company with their greed if something isn't done soon to change their course.
In any case, Apple sure woke up a market that needed it, and both the software and hardware teams there have every reason to be very proud this week.
Job incredibly well done, people. Best I've ever seen.
Next iPod
With all the focus on the iPhone, folks have almost completely ignored the fact that it is likely the new design language for the iPod. I actually believe the next iPod will initially be the better product, because much of the pain associated with the iPhone is on the phone side. The iPod side of the device is very well cooked, not tied to AT&T and, frankly, stunning.
What is interesting is that you can evidently turn an iPhone into an iPod right now, screw AT&T — which subsidizes the iPhone by about US$200 but wouldn't get a cent from you in this instance — and get a cool wireless iPod that others won't get for months. This site tells youhow to do it.
You know, a lot of folks use Palm Treos and RIM BlackBerries the same way; they just use them for their e-mail and PDA (personal digital assistant) functions and have a separate phone for the phone stuff. Not only could this be better for you, but you could stick AT&T/Cingular with a chunk of the bill and use a carrier that doesn't treat its customers like crap. How cool is that?
The real iPod, once it loses at least two of the radios the iPhone has, will likely get more memory, in the form of a small hard drive, or more flash — giving it much more capacity. It would retain the wonderful graphics and user experience, and you wouldn't even care if it didn't do e-mail, calendaring or scheduling — and it could make for a really cool PDA as it would sync with Outlook.
This would also allow you to keep using your favorite phone and carrier, and I still think, at least for now, that the tradeoffs of having a phone/iPod in the same device are too great — especially while Apple still won't allow removable batteries. Bet they fix that last with gen three next year.
'Transformers': All I Can Say Is WOW!
Dreamcast, with the help of HP and AMD, has popped up to really challenge Pixar of late, and especially with last week's blockbuster, "Tranformers" — though "Ratatouille" is also getting good reviews. Unlike animated rodents, clearly a Disney staple, massive robots that turn into next-generation cars are more of a tech thing. (For some reason, I really want to buy anew Camaro now.
I don't get over-the-wall excited about movies often. "Star Wars," "Lord of the Rings," "Harry Potter," the original "Batman" and now "Transformers" are on my list of movies that absolutely must be seen on the big screen. Yes, I have other favorites, but these films are all ones I wanted to see again right after they ended the first time.
Great movies are what summer is all about for me, and even my wife (who snoozed through the very good "Live Free or Die Hard," — best one since the first by the way — was raving about the humor and fun of this movie. You don't see me popping up often and saying there is a must-see movie, but if you like tech — and particularly if you want to see anA10 tank killer kick a big robot's ass, watch this movie and see it on the big screen.
Look for me, as I'll be seeing it several times this summer while I wait for "Harry Potter and the Order of the Phoenix".
Is this starting out to be a great summer or what?
---
Rob Enderle
is a TechNewsWorld columnist and the principal analyst for the
Enderle Group
, a consultancy that focuses on personal technology products and trends.
---