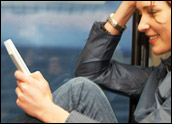 Amazon began shipping its Kindle Paperwhite e-reader on Monday, to a chorus of praise from reviewers who had been allotted a unit in advance.
Most of the positive remarks were about the screen, with its built-in lighting. A typical comment, published in Time, said the screen makes it the best e-reader yet.
However, a few reviewers commented unfavorably about the Paperwhite's lack of an audio output jack and its not being bundled with an adapter.
Details About the Paperwhite
The Paperwhite comes in two versions, WiFi only and WiFi/3G. Base prices, which will see Amazon serving up ads, are US$119 and $179, respectively.
Without ads, but including Amazon's blurbs for books, a WiFi-only Paperwhite costs $139 and a WiFi/3G Paperwhite $199.
The Paperwhite's low-power LED lights shine on the surface of its E Ink display from above to minimize eyestrain. The brightness is adjustable. The screen uses nanoscale optical diffractive patterns for better control over the direction of the light. The touchscreen can be read even in bright sunlight.
The Paperwhite has six font styles, each in eight adjustable sizes. The fonts include Baskerville and Palatino.
Users can add, edit, delete and export their own notes in the text, and highlight and clip key passages. They can share highlighted parts of the text directly on Facebook and Twitter without having to leave the page they're on.
Amazon matches the pages of a Kindle book to print version.
Demand is so strong that Amazon currently takes three weeks to ship devices ordered from its website now. Customers are limited to five Paperwhites each.
Tech Specs for the Paperwhite
The Paperwhite is just over one-third of an inch thick, making it slimmer than your average No. 2 pencil. It weighs 7.5 ounces.
The Paperwhite holds up to 1,100 books. Users get free WiFi access at AT&T hotspots throughout the United States.
Users can search the Kindle Library, the Kindle Store, Wikipedia, or the Internet using Google Search. The Paperwhite also features an experimental WebKit-based browser.
Users can email documents in various formats, including Microsoft Word and Adobe PDF to their Kindles.
Paperwhite supports the display of non-Latin characters.
Amazon claims the battery will last for two months on a single charge based on 30 minutes of reading a day with wireless off and the light setting at 10.
What's Not to Like?
E-readers "typically sucked in the dark, so the combination of a better screen with built-in lighting is what will likely make this attractive to existing e-book readers," Rob Enderle, principal analyst at the Enderle Group, told TechNewsWorld. "I've got one on order."
The screen and the form factor are the Paperwhite's key attractions for Jim McGregor, president of Tirias Research.
"These devices are no longer competing with a book or magazine, they are now competing with a few sheets of paper," McGregor told TechNewsWorld. However, the brightness of the screen "has the greatest impact on the user experience."
On the other hand, the Paperwhite is a tad pricey, and "I'm a bit surprised that the ads thing has not created a greater backlash," McGregor stated. "Charging people to take ads off the device is like Netflix doubling the price of its service — it may increase revenue, but it may not increase business."
Netflix aroused widespread anger when it raised prices last year, and was eventually forced to apologize.Affection for e-ReadersThe Paperwhite "is pricey compared to Kindle Fire tablets," McGregor remarked. "I'm surprised they did not price them lower for a stronger push during the holiday season." A Kindle Fire is listed at $159 on Amazon's site.
Despite its relatively high price, the Paperwhite "still provides a good experience for a consumer using it for a specific purpose … and is a good option for students that you want to keep focused on reading," McGregor opined.
"People that read heavily like [e-readers] and are willing to pay a premium for them," Enderle suggested.
The apparent interest in the Paperwhite could be because "e-readers are simply much better readers than tablets," Enderle said. "That will eventually change once transflective screens become available."