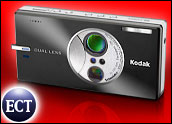 Trading digital electronics for mechanical parts has given camera makers an opportunity to tinker with the design of their wares in inventive ways, none more so than Kodak.
The Rochester, N.Y.-based company that brought film photography to the masses — by making cameras easy to use and film easy to load — is continuing its friendly photography tradition into the digital era with its line of EasyShare digicams.
One of Kodak's recent EasyShare offerings, the V610 (US$384-$458), is also one of its more innovative: a dual-lens camera with a monster optical zoom and a footprint that can slip into a pocket or purse.
The slim black byteshooter has very totable dimensions. It measures 4.4-by-2.2-by-0.9 inches and weighs a scant 5.6 ounces.
High Concept Lens
With the V610, Kodak takes the dual-lens concept introduced in its ultra-wide angle V570 model to new heights.
The unit has two Schneider-Kreuznach C-Variogon glass lenses. One acts as a medium range zoom — the 35 millimeter equivalent of a 38-114 mm lens — and the other as a long zoom — the 35 mm equivalent of a 130-380 mm lens.
In addition to its optical zoom, the camera has a 4x digital zoom.
Variable Photo Quality
I found the photo quality from the camera variable. Flash photos had discernible noise, as did images captured outside in low light. Shots in sunlight had almost no noise or artifacts.
Color fidelity in photos was very good.
A number of image resolutions are supported by the device, from "best" at six megapixels to "e-mail" at 1.1 MP.
Photos are stored in jpeg format. You can fit about 14 high-resolution images in the camera's 28 megabytes of internal memory. You can expand its storage, though, with optional SD/MMC cards.
Steady Stabilization
Large zoom lenses not only magnify objects, they magnify motion, too. The slightest shake will be amplified and blur your picture. To counter that, Kodak has incorporated an anti-blur system into the V610.
It works remarkably well.
A separate subsystem is built into the camera for stabilizing video captured with the unit.
Unlike some digital still cameras, the V610's optical zoom can be used with its video functions.
Exceptional Video
The V610 — as does its cousin, the V570 — takes some of the best video I've seen from a digital still camera.
Framing video, as well as stills, is a pleasure with the unit's big, bright 2.8-inch LCD.
Video is compressed in MPEG-4 and is captured at 30 frames per second. It's stored in QuickTime format, which translates very well from the computer monitor to the television screen.
With a 1 gigabyte SD card, shooting at the highest quality resolution, you can shoot just over 30 minutes of continuous video.
Nice Integration
Video and stills are nicely integrated in the camera. For example, you can create thumbnails and snapshots from video frames.
The thumbnails can be made into storyboards containing four, nine or 16 frames from a video.
You can also trim video clips in the camera. That's handy for saving space when you're in the field.
Another feature I found useful was the unit's built-in panorama stitching. It will automatically combine three photos into a panorama shot for you without the assistance of a computer.
Bluetooth Connection
The latest rage among digital cameras is WiFi technology. Admittedly, I haven't had much success with WiFi cameras. They and my network just don't seem to speak the same language.
The V610 doesn't support WiFi, but it does support Bluetooth. Bluetooth allows the camera to communicate with other devices that deploy the technology — devices such as PDAs, cell phones, printers, kiosks and computers.
After my tribulations with WiFi cameras, I was amazed at the ease of Bluetooth. I turned on my Palm Tungsten PDA and the V610. Pressed the "share" button on the Kodak. Chose Bluetooth from a menu. Bam! A photo went from camera to PDA in nothing flat.
Kodak's V610 sports an impressive bundle of features packaged in a way that makes them easy to use. It's a great camera for shutterbugs looking for an eminently portable unit that takes good pictures and fine video.