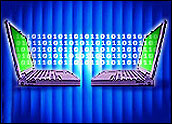 Lenovo unveiled on Wednesday three new notebooks built around a new processor and chip set announced the same day by Intel.
Lenovo engineered both the ThinkPad T61 and the ThinkPad R61 with its new Top Cover Roll Cage for enhanced durability, an improved thermal management cooling and efficiency system, enhanced wireless connectivity with Ultra Connect II and longer battery life through its Battery Stretch control option.
Both new ThinkPad laptops feature the latest Intel Centrino Pro mobile technology and Intel Centrino Duo technology.
The N200 15.4-inch widescreen notebook combines Intel's latest chipset technology with increased wireless, graphics and storage capabilities.
"We coordinated our release of these products with Intel's announcements. The new technology makes our notebooks easier to use with lower cost of ownership," Tom Ribble, director of Lenovo's ThinkPad and relationship business model for the notebook business unit, told TechNewsWorld.
The T61 and R61 are thinner and lighter than previous ThinkPad models, he said, noting that the new Intel platform will have a faster front line bus and processor than Lenovo's existing notebook lineup.
New Features
Lenovo extended its reinforced bottom cover into a new lid design using its proprietary Top Cover Roll Cage. This is an elastic polycarbonate honeycombed shield that surrounds the LCD screen to reduce the stress on the display and antenna. Combined with the bottom magnesium-alloy frame that protects critical internal parts, the two roll cages make the ThinkPad 20 percent stronger, according to Lenovo.
The new ThinkPads include a new cooling system that reduces noise levels by three decibels, and a Battery Stretch tool to help users extend battery life by powering down features not readily needed.
The new honeycomb-designed roll cage cushions the notebook's LCD, reinforces the screen and helps reduce stress on the display structure and antenna. The new roll cage design combines with Lenovo's Active Protection System, an air bag-like sensor and shock-mounted hard drive.
Enhanced WiFi
Lenovo's new Ultra Connect II connectivity design utilizes the new Top Cover Roll Cage to help eliminate the effect of conductive material and LCD noise. This boosts WWAN (wireless wide area network) and WLAN (wireless local area network) performance and eliminates the need for external antennas, according to Lenovo.
"We optimized the wireless performance and in addition improved the data throughput," said Ribble.
The new notebooks offer several different connectivity options, such as WWAN (on select T61 models) and WLAN with 802.11n technology, 2 GB Ethernet LAN, Bluetooth and a modem.
"Improvements in durability, reliability and wireless connectivity will help to make our customer's PC experience more enjoyable and productive," said Peter Hortensius, senior vice president for notebooks at Lenovo.
Other Features
Lenovo's new notebooks run cooler than previous units as a result of a new thermal management cooling and efficiency system, according to Lenovo. The system design lowers temperature 10 percent and reduces the noise level by three decibels over previous ThinkPad notebooks.
Users can squeeze more battery life from the new computer line by selecting options that minimize the refresh rates and disable radios and Bluetooth options in the Power Manager module.
Lenovo's new notebooks offer optional full-disk encryption hard drives, an integrated biometric fingerprint reader and a smart card reader. Users can also opt for Intel Turbo Memory and gain new IT management capabilities with Intel Active Management Technology in the ThinkPad T61 14-inch widescreen.
The new notebooks offer enhanced multimedia choices such as Intel integrated or Nvidia graphics, a four-in-one media card reader with the R61 14-inch widescreen and an additional integrated camera and Blu-Ray DVD options.
The ThinkPad T61 and R61 14-inch notebooks start at approximately US$1,399 and $1,249, respectively, and will be available in mid-May.
The N200 15-inch widescreen notebook starts at approximately $1,099 and will be available at the end of May.