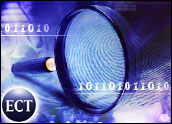 Lenovo announced this week that it is arming its ThinkPad notebooks with the ability to fully encrypt the hard drive to bolster security and reduce the risk of data theft.
Lenovo's latest technology move links fingerprint identity to the active directory. The fingerprint swipe recognizes 30 data points of identity to authorize access to the encrypted data.
Lenovo is partnering withUtimaco to provide the software encryption capability. Lenovo also announced improvements in wireless connectivity using 802.11n and improved performance resulting from the addition of the Intel Core2Duo processor to the ThinkPad line.
"The full drive encryption is a unique security strategy. The fingerprint recognition works before the operating system is allowed to boot up," Clain Anderson, director of ThinkVantage Technology for Lenovo, told TechNewsWorld.
Activates Partnerships
Lenovo worked with Utimaco to integrate SafeGuard Easy 4.30, a software program that encrypts information on the hard drive with a single swipe of a fingerprint reader on select ThinkPad notebooks. New models will have the security software and fingerprint reader preinstalled.
The new security will work with the ThinkPad T, R, X and Z series notebooks, said Anderson. Owners of the ThinkPad line of notebooks with model numbers 60 or newer can add an external fingerprint reader that connects via USB port and a software management package as an upgrade.
The SafeGuard Easy software has received FIPS 140-2 certification from the U.S. government, which is required for the sale of encryption products.
Lenovo also formed a new relationship withSoftex to provide a comprehensive new authentication management tool. This will offer a more integrated way for companies to centrally manage fingerprint templates and other authentication credentials and policies. As part of this relationship, Lenovo will offer Softex's OmniPass software for PC authentication management, including fingerprints and passwords on select Lenovo PCs.
Boosts Regulatory Compliance
The use of hardware encryption addresses federal regulatory issues, according to Anderson. The encrypted data, plus the use of fingerprint recognition in lieu of passwords to log onto a notebook computer, meets or exceeds the privacy laws that exist in 23 states.
"Companies using this new encryption technology have no obligation to report a data loss situation if the notebook is stolen," said Anderson. "It gives the companies a 'get out of jail free' card."
Anderson said the hard drive encryption also meets regulatory concerns about disposing end-of-life computers.
Cost-Saving Measure
Lenovo officials said using the heightened notebook security can save companies money.
Softex's OmniPass software gives IT managers control over multiple systems, thus helping to reduce IT support costs by minimizing password reset requests, explained Robert Galush, vice president for software and peripherals at Lenovo.
Unauthorized PC access and theft cost the 313 companies that participated in theComputer Security Institute/FBI's 2006 Computer Crime and Security Survey more than US$16 million in losses in 2006. About half of those survey respondents were companies with more than 1,500 employees, and approximately one-third of the responding firms claimed annual revenue of more than $1 billion, CSI Editorial Director Robert Richardson told TechNewsWorld.
For the past several years, unauthorized PC access and theft have been leading causes of financial loss among IT users, noted Lenovo.
"Statistics show few stolen computers are ever recovered, and companies today know the increasing numbers of stolen notebooks bring a high risk for data and identify theft," said Galush.
Every person carrying unencrypted sensitive information on a notebook PC is at risk, he pointed out. "Thinkpad and Utimaco's SafeGuard Easy will help customers better manage this security risk."
Not the First
While Lenovo's encryption technology is necessary, it is not unique, Senior Analyst Laura DiDio of the Yankee Group told TechNewsWorld. In today's computing world, such measures are extremely necessary, she said.
"Lenovo's decision to incorporate a software/hardware package that provides whole disk encryption via fingerprint reader is both extremely significant and strategic," she commented, adding that such technology is becoming increasingly common.
She cited other security and software vendors who are employing similar tactics to secure their hardware and software packages. Microsoft, for example, is rolling out its BitLocker technology in its next-generation Windows Vista and Longhorn operating systems to encrypt the hard drive to keep data out of the hands of hackers and thieves if a PC or laptop is stolen.
"As the hackers become more sophisticated and the hacks more pernicious, the onus is on vendors like Lenovo to raise the degree of difficulty and make their products inherently more secure by design," DiDio emphasized." This is a well-timed and savvy move on Lenovo's part, particularly since it is inheriting so much of IBM's installed base."