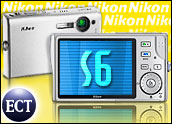 Small may be snazzy when it comes to gadgets, but for displays, bigger is better, especially when it comes to digital cameras. Those two-inch LCDs that used to be considered spacious now seem like postage stamps compared to the three- and 3.5-inch murals adorning the latest gallery of byte shootersentering the market.
Just because a camera has a large display, though, doesn't mean it has to have beefy proportions. In fact, with some clever design, a camera maker can use a larger display to slim down its product, as Nikon has done with its new Coolpix S6 model.
The S6 is a slick silver slip of a camera that weighs a tad over three ounces and has diminutive dimensions, 4-by-2.4-by-0.8 inches.
More Than a Big Picture
Its three-inch color display seems even bigger because it occupies about 80 percent of the camera's backside.
The S6's large screen, though, isn't just about a big picture. Nikon cannily uses the LCD as a surrogate for controls that would have added bulk to the camera.
For instance, many snapshooters have a "mode dial." This dial, used to choose various shooting modes for a camera, is usually located on top of the device where it adds to its thickness.
Nikon has created a "soft" mode dial that appears on the S6's LCD. It looks and behaves like a traditional mode dial. You pick modes by moving a cursor around the dial with a rotary control beside the display.
Better Mode Dial
This soft dial makes it easier to shoot pictures.
With a typical dial, you have to take your eyes off the display to pick a mode. You see a shot, lower the camera to access the mode dial and return the camera to eye level to take the shot.
With the soft dial, your peepers remain on the display at all times. So you see a shot, enter mode view, pick a mode, return to scene view and shoot. The camera never leaves your eye level.
What's more, in order to keep a camera compact, camera makers shrink the mode dial. That means fewer modes can be included on it and those that are on it are difficult to see.
The soft dial on the S6 is larger than the mode dial on any camera twice its size so its icons are easy to see. Better yet, as you choose an icon, its meaning appears in large text on the display. That's a great boon for the icon challenged like myself.
No Viewfinder
One drawback to mega-display compacts like S6 is that they don't have optical viewfinders. That's a problem in bright sunlight, which not only washes out the LCD but creates a reflection of the camera's operator on the display.
While you may not always be able to see the exact picture you're taking, you will be satisfied with its quality. Indoor and outdoor photos taken with the S6 were very good. They were sharp with good color fidelity.
The S6, which sells in the US$339 to $449 range, has a 3x optical zoom (35 to 105 in the 35-millimeter equivalent), which is par for a camera in this category, and a 4x digital zoom.
Twenty megabytes of internal memory is included with the six-megapixel camera. That can be increased with an optional SD card.
Constant Companion
In addition to still photos, the unit will shoot QuickTime movies, with sound, up to 640-by-480 pixels. I'd classify video shot with the camera in the VHS quality category.
Content in the camera can be moved to a computer through a USB dock or wireless connection. It can also be displayed directly to a TV through any device with RCA connectors.
The S6 covers all the bases expected from a compact digital camera and more. It lets you create slide shows with transitions and music in the camera, for instance, and add voice memos to photos.
Smartly designed and convenient to carry, you'll want to make the S6 a constant companion so you'll always be able to turn a memorable moment into a lasting image.
---
John Mello
is a freelance business and technology writer who can be reached at
[email protected]
.
---

Read More Reviews…
---