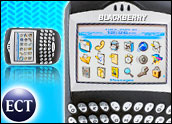 IBM has released additional Lotus software for Research In Motion's popular BlackBerry platform, taking the set of applications further beyond the realm of simple e-mail and into the wild world of Web 2.0 social networking applications. Yes, that's social networking for the enterprise.
While IBM already offers core Lotus collaboration software that includes Notes-based e-mail, portals, dashboards, messaging, calendaring and instant messaging, the company is adding BlackBerry Client for IBM Lotus Connections, which is IBM's social software for businesses.
Social Networking Set to Explode
To put IBM's offering in context, the company cites eMarketer forecasts that have mobile social networking ballooning from the 82 million users in 2007 to more than 800 million worldwide by 2012. Plus, this year IBM said more people in the world will have a mobile device than a landline telephone. IBM's Institute for Business Value predicts 1 billion mobile Web users by 2011 and a significant shift in the way the majority of people will interact with the Web over the next decade.
"As the world enters the 'Era of the Mobile Web,' mobile devices like BlackBerry are outnumbering TVs, credit cards and PCs, and are becoming increasingly critical to business operations for companies of all sizes globally," noted Bob Picciano, IBM's general managers of Lotus Software.
Facebook Generation
"The demand for social networking derived business networking is nascent still but will, in short order, become huge — very important as we go into 2010 and the Facebook generation becomes a more direct part of the workforce," Tony Rizzo, director of mobile software analysis for The 451 Group, told TechNewsWorld.
"Lotus owns about 48 percent of all corporate seats in terms of e-mail, etc. So it plays a huge enterprise role relative to where mobility is headed. All of the announcements with RIM are critical for IBM to maintain ongoing growth on the Lotus end," Rizzo added.
In addition to BlackBerry Client for Lotus Connections, IBM and RIM added IBM's Cognos 8 Go Mobile business intelligence software to its lineup, which IBM says is the industry's first business intelligence solution designed specifically for the BlackBerry platform. It provides personalized secure business information via dashboard-style reports.
IBM Hosting BlackBerry Service, Too
In a separate but related news, IBM and RIM also announced that IBM has added new hosting capabilities so that IBM can support the BlackBerry platform. IBM has joined the BlackBerry System Integrator (SI) Alliance Program, and will expand its portfolio of Managed Wireless Services for the BlackBerry platform. The offering builds upon the strength of the BlackBerry Enterprise Server product line with a far-reaching suite of services that include hosting, consulting, systems integration and deployment of enterprise applications on the converged platform, IBM said.
"In today's business world, BlackBerry is as essential to our organization as network connectivity, phone and e-mail. At Fluor, we count on BlackBerry to speed our decision making, help solve problems and improve execution," noted Ray Barnard, vice president and CIO of Fluor Corporation.
"We count on IBM to deliver this essential service and to collaborate with our business partners to innovate on new mobile applications that further our competitive advantage," he added.