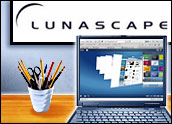 Lunascape, a newcomer to the growing field of Web browsers, released its official/stable version of Lunascape 6 Orion on Friday, a little more than one month after introducing the Alpha version.
Orion is an innovative browser that could easily win over users from popular browsers Firefox and Opera. Orion's features can change the competing browser landscape. It lets users configure their Web browsing settings to duplicate their favorite features in other browsers.
Orion's most innovative feature is the ability to switch rendering engines on the fly. This eliminates having to jump from browser to browser just to meet the design dictates of oddball Web sites.
Its Triple Engine System builds in the three rendering engines found among the most popular browsers. A one-click action in the drop down menu lets users switch among Trident (behind Internet Explorer), Gecko (behind Firefox) and WebKit (behind Google Chrome and Safari) — on the fly.
Another key innovation is the triple add-on function. This is a major innovation in Web browsers. Orion puts in a single platform the vast collection of add-ons for Firefox and Internet Explorer. It also has a growing library of Lunascape-specific add-ons.
Both of these features combine to remove any reasons not to switch to Lunascape's Orion Web browser. The official/stable version fixed the remaining few glitches that existed in the RC3 (Release Candidate) and earlier versions. Otherwise, the look and feel along with the feature set is nearly identical.
Easy Switch
My computers run at least five major Web browsers. Depending on my Web needs — whether surfing for personal reasons or heavy-duty work tasks — each of these browsers (Firefox, Seamonkey, Google Chrome and Opera) offers nuances that just make life on the Web more bearable. Even Microsoft's Internet Explorer sometimes provides convenient viewing results.
So, to be able to change rendering engines with the flip of a switch, (two mouse clicks, actually) is a big convenience over shutting down the current browsing session and reopening that URL in another browser. Quite often, I will be working in a browser and out of habit will try to access an essential Firefox add-on. Not having those tools in other browsers slows my workflow. Sure, the task gets done, but without the ease and convenience of the Firefox routines. Lunascape 6 Orion solves that problem.
"Many people are juggling multiple browsers, rather out of necessity," Yuki Sekiguchi, COO ofLunascape, told TechNewsWorld, "and we believe people should not be forced to do that, as it is asignificant productivity loss if you think about how many hours a day you are online."
Time-Saving Uses
Web designers, developers, and Q&A creators will benefit from Lunascape's three-in-one rendering engine scheme. So will those who do lots of display comparisons on content. No other Web browser lets users check browser compatibility of their creations and do necessary tweaks from a browser with the same user interface, bookmarks and tools. Time saved in not having to fire up another browser is invaluable, Sekiguchi explained.
Power surfers will absolutely love Orion's split tab display. It provides views from the three rendering engines side-by-side in either vertical, horizontal or cascade.
I am close to paranoid when it comes to Web security. Changing rendering engines with two clicks when a security hole is divulged and then continuing to work in a familiar browser environment is a bigplus. That beats the risk of waiting several days for a patch to be distributed.
Foolproof Set Up
Lunascape 6 Orion makes installation and setup a snap. The first use session offers options to select favorite visual and functional styles. Adjusting these option selections can also be done from a menu at any time.
User profiles are highly configurable as well. Choose the standard Web setting (similar to IE6's basic look and feel), simple (basic Firefox), cool (basic Safari) or silver (similar to IE7).
Most Web browsers make importing bookmarks or favorites from another browser a standard procedure. Lunascape 6 goes one better. It lets users import preferences, toolbars and stored passwords from their previous browser.
The 10.2 MB download is available for free.
Stellar Roots
Lunascape picked "Orion" as the browser's codename after the constellation of the same name. The star display has three belt stars surrounded by four bright stars as a symbol of unifying four major browsers into a single platform through triple engines and triple add-ons.
Lunascape has its origins in Japan. The browser itself is available in 10 language versions besides Japanese. The company incorporated in Japan in 2004 after developing the original Lunascapebrowser (not its current form) in 2001 while the founder was still at college doing a course for a Master's Degree.
Cool Stuff
Many of the features that make Lunascape 6 so impressive come from their success in other browsers, such as integrated add-ons and tabbed browsing, which is now a browser standard. However, Lunascape 6 has numerous features that make this browser an innovative non-clone of Firefox and other browsers.
For instance, it has a floating sidebar that can handle multiple sidebar add-ons at a time. This sidebar can be separately displayed anywhere, including on another monitor. Orion also loads fast and displays Web sites quickly.
You can change the look and feel through the Skin Center. So far, there are about 200 user-designed skins available, and making your own is easy.
I especially like the the RSS Ticker feature. Embedded as part of the toolbar displays, the news headlines are a handy tool for spotting information quickly.
Single Platform
The only downside for this nifty new browser is the omission of multiple platform development. Right now, it only runs on Windows, but that could change quickly.
"We have been receiving a lot of requests for Linux and Mac versions and would love to do something about it. As the trident engine (IE) isn't on Linux nor Mac, it may be difficult to launch the same type oftriple engine for those platforms. We are considering various options to meet user needs," said Sekiguchi.