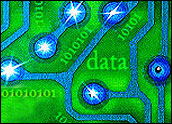 Micron Technology has entered the solid state drive (SSD) market by announcing plans to deliver 32 GB and 64 GB SSDs in early 2008.
The Boise, Idaho-based semiconductor company already produces a wide variety of DRAM (dynamic random access memory), NAND flash memory, CMOS (complementary metal oxide semiconductor) image sensors and other semiconductor components. Its subsidiary, Lexar Media, already produces the ExpressCard SSD, which is a small SSD, up to 16 GB, that fits into the ExpressCard slot on newer laptops.
Micron's new SSD lineup — dubbed "RealSSD" — will offer SSDs in a variety of form factors and densities, ranging from 1 GB to 64 GB. The first to land in laptops and desktop PCs will be 1.8-inch and 2.5-inch drives, in 32 and 64 GB form densities, that boast a native SATA (Serial Advanced Technology Attachment) II interface, which boosts performance. Micron says its new drives feature a single-chip controller specifically targeted at the SSD application, and do not require a SATA bridge chip like most current solutions.
The controller is optimized for four-channel control of the flash memory and supports advanced SATA features such as native command queuing, which lets the drive reorganize read and write commands. It also features a SATA hot plug allowing for the drive to be removed from the system without eliminating power.
"We see Micron's RealSSD drives being used first in what we classify as the road warrior/ultra portable notebook market," Dean Klein, Micron vice president of memory system development, told TechNewsWorld. "We also see advantages of Micron's RealSSD products in industrial & networking applications, rack storage, blade servers and application servers," he added.
Room for Innovation
"SSDs are becoming the new storage medium, fundamentally altering the way data is stored," Klein noted. "The storage market is ripe for innovation, and it's an opportunity Micron is embracing given our expertise in NAND. We know how to manage NAND flash to work best with controllers, allowing us to develop an optimized SSD solution for every application," he added.
Micron is also working on RealSSD Modules that provide manufacturers with customizable form factors they can use to reduce device size — Micron's RealSSD Module is essentially a solid state storage device in a low profile module form factor. They use a SATA interface, are 25 millimeters high by 133.5 mm long and less than 4 mm thick. They'll allow for increased system airflow, Micron notes, which is important for enterprise server applications.
Rounding out Micron's RealSSD plans are its RealSSD Embedded USB (Universal Serial Bus) products, up to 8 GB each. They are designed to be integrated into a system through an embedded USB 2.0 interface, Micron notes, which manufacturers could use to store and boot an entire operating system within an industrial PC or blade server system. Micron expects to enter mass production by the end of the year.
The Power of SSDs
The RealSDDs consume less than 2 watts of power while active, Micron says, and they have dramatically lower power idle and standby modes. In addition, without platters to spin up, the RealSSDs — and all SSDs — avoid this common energy drain that comes with traditional hard drives.
SSDs also bring other benefits. "They aren't magnetic so you can use them around machinery more safely," Rob Enderle, principal analyst for the Enderle Group, told TechNewsWorld.
"They are dead silent — one of the noisiest things in new PCs is the hard drive. In addition, they are much more robust — they will survive water, shocks, and rapid movement, which tends to wear out hard drive bearings," he added.
Forget the RPM
Traditional hard drive speeds are measured by RPM (revolutions per minute), with most hard drives coming in at 5400-to-7200 RPM. If there's no spin in an SSD, how's the performance?
"Performance advantages are pronounced for anything that doesn't pull out of the hard drive cache," Enderle said.
"In a new SATA-based flash drive — some of the initial ones had interface bottlenecking issues — this means initial application load, initial file load, zoning in games, operating system load, virus scans, searches, and video file editing can go much faster," he explained.
"Once software developers start optimizing for these drives we should see an even bigger boost in performance," he added, noting that boot time in Windows is often as much the result of the linear loading of drivers and initial system tests which could be rewritten to go much faster.
Overall, "Next year should be a huge year for solid state drives," he said.