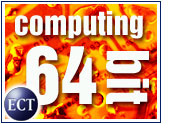 Microsoft has announced it is releasing a beta version of Windows XP for AMD's new 64-bit processor. That's both good news and bad news for AMD.
The good news is that Microsoft is showing significant support for the new processor by making a version of XP for it.
The bad news is that Microsoft won't have a final production version of the operating system this year. "The actual finished product will be available in the first quarter of 2004," Windows XP project manager Tracy Overby told TechNewsWorld.
64-Bit Windows
Microsoft announced the beta software — called Windows XP 64-Bit Edition for 64-Bit Extended Systems — at the same time AMD pulled the wraps off its Athlon 64 processor at a press event in San Francisco.
"Windows XP and AMD 64 hold the promise of bringing 64-bit computing to a whole new set of computer users, delivering immersive, cinema-quality user experiences for gaming and working with digital media," AMD senior vice president Dirk Meyer said in a statement.
"AMD and Microsoft have worked together to help ensure customers will be able to run both 32-bit and 64-bit applications on a single platform," Meyer said.
Compatibility Issues
That compatibility issue has been a major barrier to adoption of existing 64-bit systems, according to Microsoft vice president Chris Jones. "With the combination of Windows XP and the new AMD 64 processors, customers can be assured of having all the computing power and memory they need now and into the future, while still being able to run their current applications," he said in a statement.
The technology Microsoft has incorporated into XP to enable 32-bit and 64-bit applications to run simultaneously within the software framework is called Windows on Windows 64, or WOW64. The technology takes advantage of the AMD Athlon 64's architecture to ensure that 32-bit programs will run on the new chip without any performance loss in almost all cases.
"Users will be able to seamlessly move between 32-bit and 64-bit applications on a single PC," Microsoft's Overby said, adding that many users will see improved performance in 32-bit applications running on AMD 64 machines.
Microsoft sees big potential for the new 64-bit platform among consumers who have a thirst for power. With the smashing of the 4-GB limit on physical memory currently strapping down 32-bit systems, AMD's 64-bit systems will "lead to an exciting future of cinematic computing PC experiences, especially in the areas of advanced gaming, digital content creation and video editing," Microsoft said in a statement.
64-Bit Workstations
"Gamers will enjoy a new level of realism, while digital media enthusiasts will be able to create content of a quality normally achievable only by professionals," Microsoft said. Not everyone, though, shares Microsoft's vision of what 64-bit systems will mean to consumers in the near future.
"Not too many people are going to buy these things as normal desktops," David Wu, an analyst at Wedbush Morgan Securities in Los Angeles, told TechNewsWorld. "How many people do you know who are going to buy a machine for their desktop with a US$700 CPU in it?"
Even if a consumer can buy one of these systems, Wu questioned its value to such an early adopter. "What's it going to do for you? Sixty-four bits isn't going to help anyone right now," he said, alluding to the fact that the applications people use right now don't use 64 bits. "Sixty-four-bit applications won't become mainstream until the middle or later part of the decade."
He said the first 64-bit boxes will be used for server and workstation applications. The stock market also seemed skeptical of the immediate promise of AMD 64. As the market approached its close, AMD stock had fallen 9 cents on the day to $12.33, while competitor Intel's stock had climbed 31 cents to $28.83.