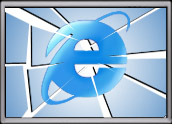 Microsoft on Tuesday ended technical support for the older versions of its legacy Internet Explorer browser, placing at risk millions of users who — despite extensive warnings — have not upgraded to the latest version of Internet Explorer or the free install of Windows 10.
The support expiration, which Microsoft originally announced in a 2014 update, means that customers using IE 8, 9 and 10 no longer will receive technical support and security updates.
"For operating systems currently in support, beginning Jan. 12, 2016, only the most current version of Internet Explorer available for a Windows OS will be supported," the company said in a statement provided to TechNewsWorld by spokesperson Jennifer Reynolds. "This is in line with industry standards and will help ensure our customers have the most modern and secure browser experience possible."
Users who fail to upgrade to the latest version of IE or to Edge — the Windows 10 browser — will be at risk of harmful viruses, spyware and other malicious software that can steal or damage business data, according to Microsoft.
Many software vendors no longer support older versions of Internet Explorer, the company also pointed out.
For business customers using legacy Web applications that work on older versions of Internet Explorer, Microsoft is offering Enterprise Mode, which will enable them to work with IE 11.
Microsoft also is offering premium support options for enterprise customers that urgently need to upgrade to IE 11 from older browsers.
Legacy Support No Longer Viable
Supporting older versions of Internet Explorer is no longer viable for Microsoft from a compatibility standpoint and essentially leaves too many legacy users vulnerable to security attacks.
At the same time, the end of legacy support potentially could nudge those same users to upgrade to modern Web browsers — and perhaps to buy new computers with fresh installs of Windows 10, the company's latest operating system, which comes with the new Edge browser.
"Microsoft is doing a couple of things with this forced browser retirement, and putting to bed some longstanding bad practices," said Ian Trump, security lead at LogicNow.
"It's insane to think it's profitable to deal with multiple backwards-compatibility and security issues for IE-only Web applications. In some cases, the gaping security holes that need to be plugged in older browsers cannot be plugged," he told TechNewsWorld.
Quantcast last fall — just before Microsoft posted a major upgrade to Windows 10 — released some significant market share data on the direction consumers were headed with their browser migration.
Chrome Still has Edge
Google Chrome was the big beneficiary of the Windows 10 release, noted Jackson Newhouse, a software engineer at Quantcast.
Microsoft Edge received a temporary share increase to 16 percent of the market from 12 percent, he pointed out. However, Chrome recovered, growing to 70 percent share of the Windows 10 market. That compared with Chrome owning 63 percent of the Windows 7 and Window 8 markets.
Windows 10 users numbered more than 200 million, Microsoft reported earlier this month. Included in that count were consumers using XBox One consoles and Windows 10 mobile phones, which would exclude older versions of Internet Explorer, according to Tirias Research analyst Kevin Krewell.
"Most of the 200 million will be PCs, and all of those PCs have the Edge browser built in," he told TechNewsWorld, "but Edge lacks support for many plug-ins that users like to have, limiting its appeal as an IE replacement."