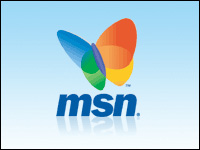 White space replaces the sky-blue color scheme in MSN.com's new redesign, which Microsoft began previewing Wednesday before it becomes an official re-launch sometime in early 2010.
Content sections are streamlined down to five top-of-page links: news, entertainment, sports, money, lifestyle and "more." Gone is the lengthy, more specific section director. The company's well-reviewed Bing search engine — which has helped Microsoft gain some market share traction — is more prominently integrated, and it will be easier for users to link their Twitter and Facebook accounts to the home page. Tabs for the two top social media networks will share real estate next to Windows Live in the redesign.
The new look is the company's first update to MSN.com in a decade, and Microsoft is hoping that an uncluttered feel on the site will also help clear away any online advertiser hesitancy in what is becoming a very competitive search engine/Web portal marketplace.
"Microsoft is uniquely invested in search, media experiences and technical innovation," Corporate Vice President Erik Jorgensen said. "Combining these assets to deliver our new MSN home page is a tremendous win for customers and advertisers."
A New Priority for MSN
Microsoft may indeed have unique investments in search, but it also needs to show consumers and advertisers that it cares as much about MSN as the company's other, more well-known products and services, said Search Engine Experts President Ken Saunders. Waiting 10 years between redesigns may not aid in that effort, Saunders told TechNewsWorld.
"Not having upgraded or updated for 10 years is much too long. It just allows things to get stale," Saunders said. "They have to demonstrate to their current clientele and prospective clientele that they're going to be responsive to changes in the industry. They also have to demonstrate that [MSN] is a priority in the company, and not an afterthought or second-tier product — they have to demonstrate they're willing to give as much commitment to it as they do their software products."
Going Local, Getting Simpler
The redesign also includes an emphasis on closer-to-home information via MSN Local Edition, a link near the top of the homepage that takes you to local news stories from Microsoft's content partners, and shopping/services directories via Bing on the left-hand side of the page. In the current edition of MSN.com, users have to customize the homepage to obtain local news.
When it comes to all news links, the new-look MSN pushes more partnerships with MSNBC, Hearst, Hulu, Fox Sports to the fore. MSNBC and Fox Sports already had their own sections on the home page, but all that has been trimmed down to larger-font links.
The company is responding to customer requests for easy-to-find information, it said, whether it's from a traditional media outlet or their own media filters that double as friends and coworkers. "Customers told us they want the latest information from their favorite sources, their friends and the breadth of the Web — and the new MSN home page delivers via a fresh new look and new features," Jorgensen said.
"Anything they can do make it easier for searchers has got to be an improvement," Saunders said. "Making for easier access to social media is also a big plus. But maybe more than that, Microsoft has to demonstrate to the marketplace that they are being aggressive in rolling out feature functionality, and not just sitting back and expecting that the Microsoft-Yahoo agreement is the be-all, end-all."