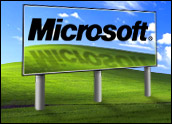 As consumer-focused word processing and spreadsheet applications become less expensive and more available from non-Microsoft sources like Google and Apple, Microsoft is working to ensure that it too has lower-priced, higher-value "essential software" solutions for consumers. The Redmond, Wash., software maker has been secretly working on a new service, code-named "Albany," which the company publicly acknowledged Friday.
Albany is currently in a private beta program, and details are scarce. Microsoft did, however, post an internal interview with Albany Group Product Manager Bryson Gordon, who revealed a few nuggets. Albany is a new all-in-one subscription service of all the core software and services Microsoft says consumers told the company they wanted.
"We've pulled together the productivity tools people need to organize their lives, security to help keep their personal information safe and online services that make it easy for them to keep in touch with friends and family, and folded them all into a single service that also ensures the user's PC is running the latest security and productivity software," Gordon explained.
A Package Install
Albany is designed to be consumer-friendly right from the start — just a few clicks will install a whole package of applications, which include Microsoft Office Home and Student 2007, which includes Word, Excel, PowerPoint, OneNote, the Windows Live OneCare security service, Windows Live Mail, Messenger and Photo Gallery.
Albany also installs the Microsoft Office Live Workspace connector on the Microsoft Office toolbar, the company said, so users can save documents to their own dedicated online workspace and invite friends and classmates to collaborate and share.
Subscription Service
The new offering will be delivered in a subscription service, but Microsoft provided no details as to cost or terms other than the fact that Albany will cover up to three PCs, and once a customer stops subscribing, they lose access to the applications — though their data files remain theirs to keep.
Gordon noted that Albany is not the next version of Microsoft Office. When the Albany applications are updated, subscribers will also get automatic updates at no extra cost, and the concept of always having the most-up-to-date solution is one Microsoft clearly hopes will resonate with consumers.
"At the same time, we are definitely not straying from our traditional software sales model. There will always be a significant number of users for whom purchasing a perpetual license to the latest version of Office is still the best choice," Gordon said.
Leverage and Competition
"A couple of things are happening at Microsoft — there's definitely a broader shift in figuring out how the company can provide an interesting and profitable range of services by leveraging their existing software and intellectual property," Charles King, principal analyst for Pund-IT, told TechNewsWorld.
"From Microsoft's standpoint, the company is obviously conscious of what Google is doing with free online storage and Google apps, and it's important for MS to compete with Google," King added.
Services a Long Time Coming
"The fact is, people have been talking about the wisdom of Microsoft moving to a services model for a long time, but at some point, you just have to stick your toe in the water — and I'm not sure what the public reaction is going to be, frankly," he added.
King did note that there's a sizable number of consumers who enjoy Microsoft products but have been somewhat unsure about upgrading to "ever larger, cumbersome, and feature-laden applications." A reasonably priced subscription service could possibly remove some upgrade resistance in consumers and still provide the latest features and security.
Microsoft said it will provide more information later this year on availability and pricing.