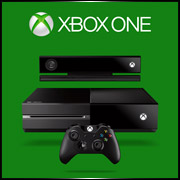 Microsoft on Monday announced that it had begun rolling out its Xbox One November Systems Update, which will be its final major update for the console for 2014. The improvements will deliver new ways for owners to watch TV, personalize the game system, and interact with the Xbox Live gaming community, as well as provide new integration with Xbox One Store and Microsoft's SmartGlass platform.
Improved TV integration includes ways for users in the United States, Canada and the United Kingdom to see what is trending on TV in a OneGuide updated by-the-minute. Additionally, users in the U.S. can see which TV shows are trending on Twitter, view tweets for live TV shows in real time, and find #hashtags to join the conversations.
"Through monthly updates, we've released hundreds of significant features for Xbox One, including a low battery indicator, the ability to initiate game downloads from a remote location, turn off notifications during video playback, and external storage, and more," Microsoft spokesperson Amanda Winters told TechNewsWorld.
The November update also allows for greater customization, providing gamers with a way to show off their top achievements and to share game clips.
Personalized Backgrounds
The Show Who You Are improvement adds customized backgrounds that allow users to choose a custom color as a theme or achievement art as a background image. This will be available to gamers on any Xbox One that they sign on to, while the gamer profile also can be updated to let users select a set of showcase items that are visible to other users. Up to six game clips or achievements can be displayed in the carousel format.
Other new features with this update include Xbox One Store improvements that are designed to help the navigation experience, and the ability to view friends' activity within the Xbox One SmartGlass experience.
Microsoft also addressed requested features and responded with an IE featured site function and a Restart Now function that can allow the console to be restarted quickly using the game controller.
Although this is a major upgrade, it might not spur many purchase decisions.
"There tends to be a significant UI/system update at least once a year," Lewis Ward, research director for gaming at IDC, told TechNewsWorld. "Historically these updates have not moved the sales needle much at all."
Due Diligence
Still, such a sizable update could be good for business in other ways.
"Microsoft has always done a good job at keeping its users updated," said independent video game industry analyst Billy Pidgeon.
"This way there are no surprises when gamers turn on the system and have to wait. They're getting out in front of this for everyone; and if everyone knows a big update is coming they might not be happy — but at least it is expected," he told TechNewsWorld.
"This was just an example of the good diligence in letting consumers know the update is coming," he added. "Microsoft has always been a leader in doing this for its customers."
Xbox One's Second Holiday
Heading into its second holiday season, the Xbox One is trailing Sony's PlayStation 4, and it may be games — not new features — that truly push the needle this year.
"The update isn't going to help as much as a big game like a new Halo in terms of making sales," said Pidgeon. "Software helps push hardware, and this season Microsoft has some great exclusive content."
The other factor that could help is the system's recent price reduction.
"The two main things that drive consumers to buy consoles at the holidays are key title releases and price point changes," P.J. McNealy, industry consultant with Digital World Research, told TechNewsWorld. "From there, the reasons are more incremental."