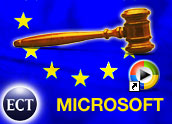 Bo Vesterdorf, the judge presiding over Microsoft's appeal of the European Union's antitrust decision, has scheduled a meeting for July 27th.
It is Microsoft's first meeting with the judge.
Bo Vesterdorf is the presiding judge at the Court of First Instance in Luxembourg. He called the informal meeting to sort out "practicalities," such as setting the hearing schedule.
EU regulators, Microsoft attorneys and other "interested parties" have been invited to attend the meeting, but the session will be closed to the general public.
EC Declares MS Guilty
On March 24th, the European Commission declared Microsoft to be guilty of abusing its "near monopoly" with Windows software.
It levied a fine of US$613 million and demanded changes in how Microsoft operates in Europe.
But it suspended the sanctions on its own last week, pending Vesterdorf's ruling on Microsoft's request for a stay.
Vesterdorf's ruling could take weeks or months, while the entire appeal is expected to take years.