The latest specs for the upcoming Xbox update, codenamed "Project Scorpio," surfaced Thursday in a report published by Eurogamer's Digital Foundry, following its exclusive preview of the still-in-development system at Microsoft's Redmond campus last week.
The update is well under way and could take gaming to new extremes, based on that report. A demo of Forza Motorsport ran at 60FPS in native 4K, showcasing the potential of the updated system — but that was just a hint of where this mid-cycle upgrade is headed.
icrosoft officially unveiled Project Scorpio at last year's E3, but it has offered few details about what gamers can expect, until now. Project Scorpio is actually ahead of schedule, Eurogamer reported, but it is still at least six months away from a consumer launch. More details likely will be announced at E3 this June.
Project Scorpio will be the most powerful video game console to date, according to Microsoft, and based on the revealed specs the system does appear to eclipse the PlayStation 4 Pro, which Sony revealed last September.
Spotlight on Specs
Project Scorpio's CPU will feature 8 custom x86 cores clocked at 2.3GHz — well above the original system's 1.75GHz, and even higher than the PS4 Pro's 2.1GHz.
The GPU is built around 40 customized compute units at 1172MHz, which will provide a more stable and higher frame rate with faster load times. That far exceeds the Xbox One's 12GCN compute units at 853MHz, and beats the PS4 Pro's 36 improved GCN compute units at 911MHz.
In terms of memory, Project Scorpio will offer 12GB GDDR5 compared to the 8GB of the Xbox One and PS4 Pro. It also will boast larger memory bandwidth — and, most notably, will offer optical drive 4K UHD Blu-ray support.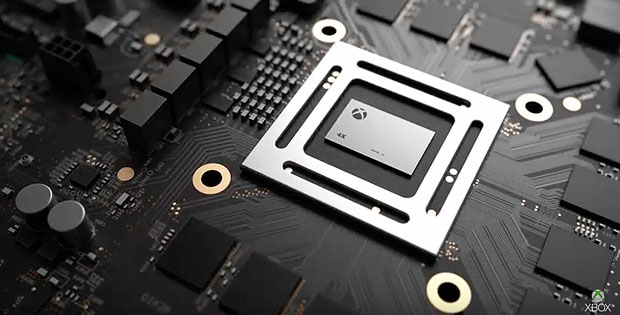 This hardware not only will support more advanced games, but also will run all Xbox One games better without emulation, according to Eurogamer's report.
A New Reality
Project Scorpio's hardware power won't lead to significant changes in the overall gamer experience for most Xbox One games, however.
"Project Scorpio adds [virtual and augmented reality] technology, but it has made it clear that all other games need to be backward-compatible with the Xbox One," said Lewis Ward, IDC's research director for gaming and VR/AR.
"Microsoft will position this as an Xbox One that adds true 4K video and VR/AR support," he told TechNewsWorld.
That also could play well with the growing adoption of 4K/UHD TV sets, which still have little in the way of content.
"4K is going to be a significant piece of the market for TVs in the near future," Ward said, "so this is about future-proofing the Xbox One for 4K and those TVs that are out there. As Sony already said, 'the technology is ready, so why not use it?' This is even more true with Microsoft."
Multiple System Support
One question to ponder is how this fits into Microsoft's larger Xbox One strategy. Project Scorpio will follow the Xbox One S, a mini-upgrade released during the last holiday season with added 4K video support.
"There are at least four good reasons why Microsoft is pursuing its Project Scorpio product strategy," said Piers Harding-Rolls, director and head of games research at IHS Markit.
Leading the list is that for core and enthusiast console gamers, graphical power matters, he told TechNewsWorld.
"By outperforming Sony's PlayStation 4 Pro, Microsoft is aiming to differentiate its offering from its direct competitor," Harding-Rolls said, "and like the PS4 Pro does for Sony, Project Scorpio delivers a significant performance bump compared to the standard Xbox One, which opens up a two-tier product strategy with associated pricing and audience targeting flexibility."
Further, Project Scorpio will be a much more significant update to the core system than Sony's PS4 Pro was to the original PS4.
"The comparison is quite different in terms of what the system offers," said IDC's Ward. "The PS4 Pro was a rather modest mid-cycle upgrade, while this is really an 8.5 generation console."
Monetizing the Gamers
Project Scorpio therefore could allow Microsoft to reach early Xbox One adopters who are keen to have the latest technology earlier in the cycle, compared to previous generations, while also having the cheaper Xbox One S targeting a mainstream audience.
"Project Scorpio's native 4K gaming potential also brings it into line with more powerful gaming PCs, strengthening Microsoft's content strategy to interconnect both Xbox console and Windows PC platforms through its Xbox Live and Play Anywhere strategies," IHS Markit's Harding-Rolls explained.
"Third-party publishers that are developing games for both PC and console are progressively developing 4K level content, so the overhead to develop for this new platform is not as onerous as seems at first glance," he added. "Lastly, the power offered by Project Scorpio allows it to become a viable virtual and mixed reality platform. Compared to the Xbox One S, this will be a major differentiating capability."
Will Gamers Buy In?
Whether gamers will embrace this update, however, is questionable. Although Project Scorpio could be attractive to early Xbox One adopters who want to upgrade to a potential PC-level VR experience, price will remain a factor.
"The high-level specs suggest that Project Scorpio will come to market at a higher price point than the PlayStation Pro launched in 2016," said Harding-Rolls, which was US$399/399 euros/Pounds 349.
"Although the ability to deliver native 4K gaming is a boon to Microsoft and its product positioning, we have to be realistic about its sales potential at a higher price point, when for many console gamers — those without 4K displays — the improvements will be less significant," he added.
"Based on the specs it would be quite expensive," suggested IDC's Ward. "It is going to be $650 minimum, as it is a very beefy machine."
That could be acceptable to those who want a cutting-edge video machine, but that might be a rather small niche.
"If it sells more than 1 million units in Q4 2017," said Harding-Rolls, "I think it will be doing extremely well."