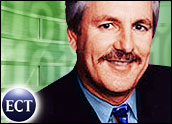 Microsoft has three major annual conferences: the Professional Developer's Conference (PDC), Windows Hardware Engineering Conference (WinHEC) and TechEd. Although each conference is important and has set record attendance in the past couple of years, providing a solid counterpoint to the view that Microsoft is in decline, TechEd is about users of Microsoft's technology while the other two shows are focused on those that sell the technology. At TechEd, you'll find the technology buyers. Microsoft touches more of those buyers than any other single vendor.
It is interesting to note that attendance has risen sharply at all of the technology shows I've been to so far this year. NAB, Networld Interop and even the SIIA Codie Awards were showing sharp increases after declines in previous years.
Research firms Forrester and Gartner have reported improved attendance at their conferences, too, and only the new shows like CeBIT America still seem to be struggling. The increase in attendance is yet another indicator that the economy is improving. Companies that can take advantage of this shift probably will outstrip those that cannot. Eleven thousand people attended Microsoft's TechEd conference — a record number that required turning some folks away at the door because they had not preregistered.
Economy Equals Attendance
Because TechEd is a show of technology, buyers show a great deal of presence. How they manage that presence is a strong indicator of which firms are willing to step up and which are still in cost-containment mode. Presence at the show is important because, in a recovery market, share-shifts can be dramatic. Buyers have been holding off buying for a long time. This pent-up demand can shift market share dramatically, often turning leaders into slow-moving also-rans.
The cost-containment strategies so important in a recession actually can stand in the way of rapid acceleration. At TechEd, you can see some firms step up, and there are some big names that aren't as visible, which suggests change is in the works. Comdex will be the next big chance for us to see who is stepping up and who isn't.
TechEd is the closest the average IT buyer gets to Microsoft. Any company that has a significant Microsoft commitment and doesn't attend this show is foolish. The value of the contacts alone is worth the price of admission; it is only at this show that you get a sense for the real Microsoft, the good and the bad. That view can increase the quality of your related decisions. There is one other thing you can get from the show: a feel for Microsoft's changing partnerships.
HP Gets Serious
You can't go anyplace at TechEd without seeing HP's brand. This brand is in every hall, and it exists on the shared hardware in the common rooms — the thousands of PCs and monitors. It is on most of the show collateral, and the company seems to be participating in almost every contest. At the show, contests are used to build traffic and create sales leads. HP is the most aggressive, by far, in terms of participating in every opportunity. I'm actually understating this fact. HP's brand was so pervasive at TechEd that, if you didn't know better, it would have been easy to mistake the show for an HP show.
What is interesting to note is that, second only to Microsoft itself, HP has been cutting more deals than any other vendor I follow. I've directly participated in several of these deals. A few months ago, the company reached an agreement with Starbucks to deliver digital music to Starbucks stores, turning them into places where both coffee and entertainment could be acquired. At the National Association of Broadcasters show, HP announced a relationship with Nokia to turn mobile phones into low-power AM-FM radios.
HP also remains the only PC company to cut a deal with Apple to resell a private-branded version of the iPod. This last move was undoubtedly the most difficult to engineer because Apple doesn't partner with anyone.
If you've been watching TV, you've undoubtedly seen the new HP advertisements. They also have been showing up increasingly in print. Having been one of the most critical of HP's lack of marketing — particularly when compared with IBM's efforts — I have to admit HP clearly has changed. The company now is outmarketing IBM by a significant margin.
Perceptions often lead reality, and for the folks at TechEd, there is no Dell and there is no IBM. HP is the vendor of the hour — and, if this perception holds, HP should benefit strongly from these changing perceptions.
AMD: Microsoft's New Best Buddy
One of the things that struck me at this show was that AMD has become incredibly visible. AMD's message was on collateral and posted everywhere around the floor. In particular, the company set up a gaming section where attendees could play Unreal Tournament head to head against each other over a closely coupled network.
The subtext of this marketing effort is performance. Granted, the marketing at the conference showcased AMD as a gaming rather than corporate-technology supplier. But it did drive home the AMD brand. The more comfortable IT buyers get with the brand, the more likely they are to consider AMD as a product.
This new, strengthened AMD-Microsoft partnership first became apparent at Microsoft's PDC, when Microsoft hinted at a more aggressive move to 64-bit desktop and low-end servers. At WinHEC, Microsoft made the jump and started to favor its own 64-bit edition of Windows XP. The software giant drove home the point that NX — the no-execute component of Longhorn and Windows XP SP-2 — would run only on AMD's Athlon and Opteron 64-bit processors because of headroom limitations in the 32-bit parts.
Since that time, both Intel and Transmeta have announced they are moving aggressively to adopt NX technology. Transmeta will be the first 32-bit provider to run NX. Via, which came out with news along these lines last week, is rumored to be on track to support this important security component as well, but it is AMD that is getting the majority of the visibility at Microsoft shows.
This visibility should result in increased sales as more and more buyers get comfortable with the AMD brand and related 64-bit products.
Forrester vs. Gartner
Gartner is typically the unbeaten leader in IT research. However, Forrester reports were on every chair at Steve Ballmer's keynote at TechEd. Moreover, they had the favored position on Ballmer's charts. With the controversy surrounding the sudden departure recently of Gartner's CEO, which had the Gartner analysts all but dancing in the streets, we might be seeing the beginning of an upset.
Meanwhile, Forrester is striving to become the new sheriff in town. Assuming the company can hold on to its analysts during the recovery, it has the strongest chance of moving solidly against a struggling Gartner than ever before.
Often, at a show like TechEd, it isn't the obvious that is important, but the hidden drama of the people and vendors moving behind the scenes. While the overt message from TechEd is that Microsoft finally understands it is on the cusp of a change that might not benefit the company and is moving its massive resources to address that risk, the hidden story is that the buyers, along with the economy, are back. And companies like HP, AMD and Forrester are moving aggressively to capture them.
---
Rob Enderle
, a TechNewsWorld columnist, is the Principal Analyst for the
Enderle Group
, a consultancy that focuses on personal technology products and trends.
---