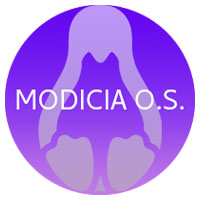 Every once and a great while I stumble on a Linux distro that makes me sit up and smile. Modicia O.S. is one of them.
It is not that Modicia steps over the bleeding edge of innovation. It is a seemingly standard desktop Linux distribution based on Xubuntu. It comes in one desktop flavor, Xfce — but with a twist.
Yet nothing is standard about Modicia O.S. That is what generates the happiness. This distro takes one of the oldest and most reliable desktop environments and adds features and conveniences that make using it seem like something brand-spanking new.
---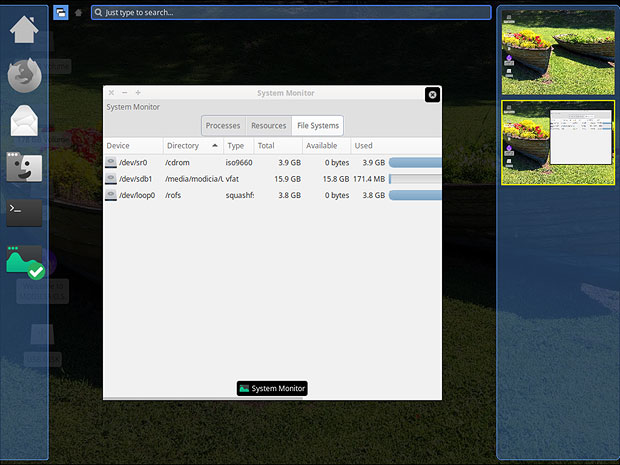 Modicia's hot corner feature opens a GNOME 3-style screen display with a sidebar on the left and a panel of workspaces that slides out from the right edge.
---
Modicia O.S. Desktop Ultimate 18 Long Term Support is a newcomer to the land of Linux distros, having been released just last month. This new member of the GNU/Linux family was created by professional multimedia users for professional multimedia users.
It is the brainchild of an Italy-based developer community headed by the Modicia Web Design and Development Company. Modicia is a general purpose optimized computing platform that just works right out of the box for use in every field — amateur or professional.
Simplicity and Finesse
Modicia is a workhorse distro for those who have a penchant for audio and video tasks. It provides top-notch free software for graphic, video and audio performance with interactive menus.
However, nothing gets in the way of users who need a solid platform for office operations or general everyday business or personal uses. Modicia comes with a recovery tool and automatic PC optimization, all with graphical user interfaces that eliminate the need to open a terminal window.
Modicia is a complete desktop platform. It is easy to install, requiring no setup or tinkering to connect to the Internet, local printers and other typical computing accessories.
The Xfce desktop interface is intuitive and uncomplicated. The combination of software and desktop usability puts the "ultimate" in Modicia's formal name.
Software Sufficiency
I spend the bulk of my work time perched at my keyboard, researching open source topics, reviewing software, and writing about Linux. Compared to the working software collection installed on my main computer, the only software package Modicia lacked was the Geany IDE editor. That was the only software tool I had to install, and the process was effortless.
The developer chose an impressive assortment of pre-installed software based on recommendations from professionals, videomakers, photographers and office workers. The beauty of the software scheme in Modicia is the great assortment.
Usually, a distro is stocked with one or two titles that do the same thing.
Not so with Modicia. In both the office and multimedia categories, you get multiple software titles to give you the best range of tools.
More software comes with Modicia than the typical top-of-the-line free open source picks for professional uses. The developer has packed Modicia with some of the best commercial software for free use.
Have It Your Way
Writing and graphics packages are essential to my line of work. Modicia comes with the latest versions of the LibreOffice suite, Calligra Words and Calligra Sheets. It also includes the OnlyOffice Desktop, Calibre e-book library management, and E-Book Editor (which supports various e-book formats).
Multimedia offerings are equally attractive. Modicia includes Shortcut, ProjectX, Kdenlive and Avidemux video editors. It comes with Audacious, VLC and Parole Media Players, as well as Audacity for recording and editing audio files.
If you work with sound or music files, you will be smiling over the choices of various editing and transcoding tools, such as Play It Slowly, LMMS, DVD Encoder and Handbrake.
For preparing presentations, you get slide makers in several of the office suites bundled with Modicia. You also get Imagination, and Pencil2D for hand-drawn animation using both bitmap and vector graphics.
Do you work with sound? Marvel at the skills available with Qtractor, Mixxx and the ZynAddSubFX Synthesizer.
There is much more to discover inside Modicia: Professional RAW format images, XnView-RawTherapee, GIMP, Krita, Inkscape, MyPaint, Karbon, mtPaint, GravityDesigner all await you.
Powerful Performance
This operating system is preconfigured with the necessary plugins for all the software used for productive work. Modicia optimizes the performance of host hardware through a software intervention on the use of RAM and processor.
Program-loading is sped up in RAM with an opening speed increased by 25 percent, according to the developer. The data scanned and read in RAM are compressed to avoid using the swap partition and allow 20 percent higher speed.
If you like to take control of your computing system, you will enjoy the professional strength maintenance, cleaning and optimization tools available in Modicia. You also can assign control of system resources with the possibility of participating directly. Otherwise, those tasks are handled by the specialized graphics tool you execute with a single mouse click.
Super GUI
Superb software and system performance aside, what I really like about Modicia is how the developers tweaked the Xfce desktop into a super environmental shell of sorts. Using it is like have Xfce on steroids.
System usability often comes down to the little things built in. for instance, you do not have to load every software title listed in the menu to find out what an unfamiliar application does. Just hover the mouse pointer over the title to see a brief description of the application. Super cool!
I love the functionality of the desktop switcher that is part of the Xfce panel. It provides point-and-click navigation among a nearly limitless number of virtual desktops.
That is fairly standard for numerous Linux distro desktop choices, but what is totally nonstandard is the ability to have a GNOME 3-like desktop display by just pushing the mouse pointer into the lower left corner of the screen. Totally awesome!
Look and Feel
I am tempted to describe Modicia's desktop array as a hybrid concoction, but that's not exactly right. When you put all the appearance elements and functionality together, though, you have what is essentially a new desktop offshoot.
---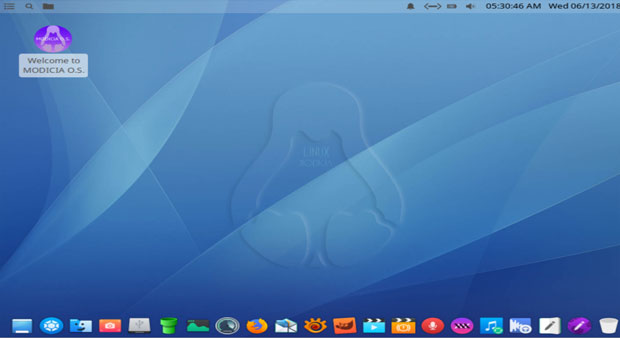 Modicia O.S. has a top panel as well as an animated bottom dock — an unusual combination of usability features.
---
For starters, Modicia's design puts a fully functional panel bar at the top of the screen. The left side is home to the main menu and launcher icons for file manager and the application finder/launcher. The center section is docking space for thumbnails of running programs. The right end of the top panel is the system tray for notifications and status icons.
The panel fully supports installable Xfce applets. The docking space for running apps and the applet selections often are eliminated in newer desktop panels if the panel is even provided.
Combine the more traditional top panel with the macOS-style panel on the bottom of the screen, and you have an unbeatable user interface. The bottom panel holds animated launcher icons for favorite applications.
---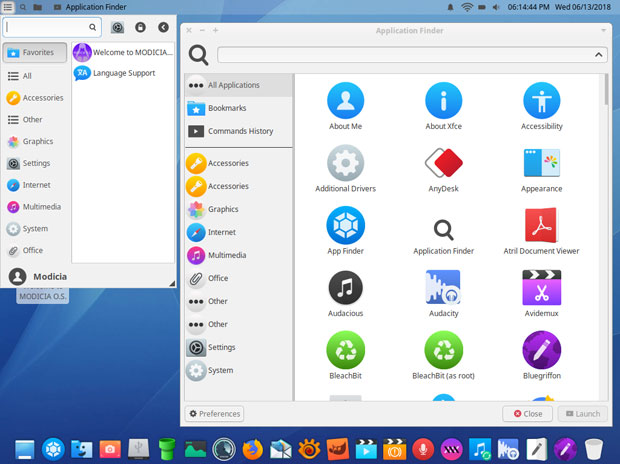 Modicia offers great flexibility with both a two-column application menu and finder app, and a dock-style favorites launcher bar.
---
One of the neatest features in Modicia is the hot corner in the lower left edge of the screen. Push the mouse pointer into that corner to see a GNOME 3-style screen display of sidebar on the left and slide-out panel of workspaces from the right edge.
Menu Mania
Right-click anywhere on the desktop to open a cascading menu to access settings, tools and desktop controls. Right-click on any application's name in the main menu at the far left of the top panel to add/remove its icons to or from the panels, or from the desktop itself.
You can control the behavior and functionality of all aspects of the operating system by accessing numerous control panels in the main menu. If you do not like the particular panel style in the default configuration, just open the Xfce Panel Switch tool for a selection of six other options.
Modicia has not only the traditional two-column applications menu, but also the full-screen style GNOME 3 menu display.
Bottom Line
Modicia O.S. Desktop Ultimate 18 LTS lives up to its name in terms of being an ultimate computing platform. It offers a very pleasing user experience that is ideal for office or home functions.
It has the potential to be ranked among the best of the general-purpose Linux distros. I tend to favor Linux Mint's homespun Cinnamon desktop as my primary computing workhorse. I keep a few winners on my various computers for variety and different productivity options.
Modicia has been my preferred OS the last few weeks after I stumbled upon its smile-creating capabilities. Its combination of panel types and other user-enhanced tricks soon may qualify it for the default boot choice on my primary computer.
Want to Suggest a Review?
Is there a Linux software application or distro you'd like to suggest for review? Something you love or would like to get to know?
Please email your ideas to me, and I'll consider them for a future Linux Picks and Pans column.
And use the Reader Comments feature below to provide your input!