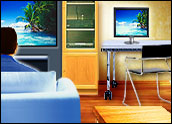 You can look at it as the beginnings of real interactive television — or simply one big episode of the cult comedy TV series "Mystery Science Theater 3000" brought to life.
In any event, thanks to forthcoming plans from IBM and Fox, viewers will soon be able to talk back to their flat-screen televisions via social media such as Twitter and Facebook.
The blogosphere has dug up a Big Blue patent application involving Texas-based researchers for a remote control device that will let viewers blog, tweet or Facebook-update their thoughts about what they watching on TV without having to access a computer. "More than ever, people wish to be able to share their comments with others in real-time as they experience life," reads the application for U.S. Patent #7519658. "In the case of television, for example, one of the joys of watching television is discussing with one's friends the juicy bits of a favorite show or the latest television program."
You won't have to wait, however, for that patent to become an actual device before you can talk about the juicy bits of Fox's "Fringe" and "Glee." This week, the network will spice up prime-time summer rerun airings of both shows with tweets from cast members, producers and viewers. The tweets can either be followed on a computer or via scrolling messages at the bottom of the screen.
The Web/TV mashup We've Been Waiting For?
Technology watchers wrote endlessly in the late 1990s about interactive television — mashing up the Internet and TV viewing in a way that would enable everything from instant talk-back to electronic commerce. Early experiments like Qube TV and Web TV (later Microsoft's MSN-TV) gave an early glimpse into the potential. Verizon's FiOS service recently unveiled a Twitter/Facebook widget allowing back-and-forth comments revolving around hashtagged topics. So is social media the application that will finally bring interactive television to the mainstream?
"It's not exactly what I envisioned. I always imagined it as interacting live with what you saw on the screen," PC Magazine editor-in-chief Lance Ulanoff told TechNewsWorld. "The scenario I must have painted a dozen times was that you would be watching your favorite TV show, and some character would be wearing something cool and you wanted to buy it, they (the network) would marquee it and you could go online on your TV and buy it."
Ulanoff says that situation may indeed turn into reality thanks to digital television, which can deliver separate streams of digital information to viewers. In the meantime, however, social media has already been inching its way onto TV screens. Current TV used tweets to augment last year's presidential elections, and CNN regularly airs real-time tweets in afternoon programming.
"You're interacting and having your voice and everybody in the audience can see what you're thinking," Ulanoff said.
The Downside of Uptweeting
As for a social media-friendly remote control, IBM spokesperson Chris Andrews says the patent, issued to Big Blue in April of this year, may not end up being an IBM-branded device.
"The patent is not associated with an IBM product and we do not have plans to integrate the invention into an IBM product," Andrews told TechNewsWorld. "Although patent 7,519,658 isn't slated to support an IBM project, the invention supports our intellectual property (IP) strategy. For example, patenting generates significant IP income for IBM, and patents help protect the company's significant investment in R&D. Patents also help IBM establish cross-licenses, which provide IBM and many other companies with significant freedom of action to pursue new markets and emerging business opportunities."
That opportunity may also involve enhancing ad revenue, Ulanoff said. "People watch television and no longer watch advertising, fast-forwarding or blanking on it. But if you've got them engaged with Twitter the whole time, during the commercial interruptions people are not just talking about the show, but also talking about commercials, and that is a total win for advertisers, who are desperate to find ways for you to still notice them."
Not that there isn't some likely groaning and moaning from those who still want to enjoy television as a passive process and would rather not write 140-character mini-essays. Also, Ulanoff brought up the possibility of spoiler-laden tweets threatening the enjoyment of ongoing dramas like "Lost" and "Mad Men" for West Coast viewers.
Yet the development signals another mainstream, prime-time acceptance of Twitter's overall potential to bring consumer and subject — in this case, TV — closer together. "It's definitely here, but it's hard to say if it's here to stay. It doesn't seem to be suffering the boom-and-bust of Second Life," Ulanoff said.