MX Linux is a blend of mostly old and some new things. The result is an appealing midweight Linux operating system.
The midweight category is a bit unusual. Desktop environments that run well on minimal hardware typically fall into the lightweight category. Lightweight environments like Xfce, LXDE/LXQt, Enlightenment, and iceWM often are paired with software applications that do not tax system resources with heavy graphics and animations.
Lightweight Linux distros are good choices to keep aging computers running fast and furious. So-called midweight distros push the resource limits a bit with more full-bodied software and features that place them on the upper edge of lightweight performance.
MX Linux falls into that edgy category. It runs only the Xfce desktop with a few full-service Web browsers, graphics tools, and the LibreOffice suite without slowing down system performance.
Besides the solid performance, one of the best selling points for MX Linux is its ease of use. LX Linux requires no learning curve to use the Xfce desktop efficiently. Another key ingredient is a very handy collection of system tools designed specifically for the MX OS.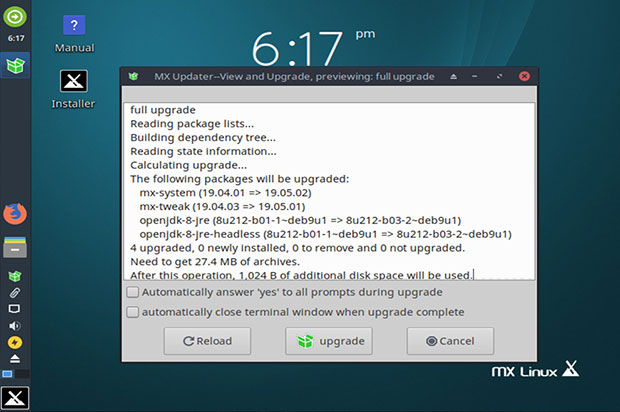 MX Linux lets you perform a system upgrade without doing a reinstallation for every new release.
---
MX Linux 18.3, released on May 28, is based on Debian 9.9 "Stretch." It features a customized Xfce desktop. This new version, while a minor release, brings updated MX applications and an improved MX user manual.
Family Roots
MX Linux is a desktop-oriented Linux distribution. If you are looking for a server component, you will not find one with this distro. MX Linux started as a cooperative venture between the antiX and former MEPIS Linux communities, hence its "MX" moniker.
MX Linux is not a fork of its roots. Rather, it merged some of the best elements of both antiX and MEPIS to create a better product than either of the parent families. AntiX still runs a variety of lightweight desktop options that include Fluxbox, IceWM, JWM and Xfce.
I started playing around with antiX several years ago when looking for a suitable Linux OS to help a local business owner keep his older computers out of the trash heap. In that same time frame, I discovered MX Linux, a variant of antiX that was only several months old. Even then, in its early beta release, MX Linux showed tremendous potential. The MX Linux 18 series today shows not just potential but established execution.
MX offers just the Xfce desktop. It kept its roots as a midweight operating system designed to combine an elegant and efficient desktop with simple configuration, high stability, solid performance, and a medium-sized footprint on system resources.
Much to Offer
MX Linux draws from the core antiX system and includes work and ideas used by Warren Woodford's long-dormant MEPIS project. Ongoing backports and outside additions to the MX software repository keep components current.
Even if keeping an aging computer productive is not your goal, MX Linux has another very redeeming feature not found in most Linux distros. It is highly portable.
MX Linux is a great option if you need to carry a fully functional Linux operating system in your pocket without lugging around a laptop. That can be a huge convenience if you travel or work at different locations with access to computers. It is easy to install the entire system on a USB stick.
That by itself is not unique. Other Linux distros allow that option to varying degrees. MX Linux, however, took the concept of persistent memory in a live or portable environment that already existed in antiX Linux and expanded the concept. MX Linux also simplifies the process.
Running live sessions of a Linux distro is a handy way to check out a distro's suitability for your computing needs. Normally, however, you cannot save settings or add/remove software in live sessions. That is where persistent memory comes into play.
MX Linux provides three forms of live persistence, including the Puppy Linux style "frugal" installation option. It also offers multiple options with its own built-in tools to burn the ISO to a USB drive with a choice of storage options.
Look and Feel
The Xfce desktop is easy to use but less a thing of beauty. MX Linux's focus is performance and simplicity. It is less concerned with snappy animations and other graphical niceties.
The default desktop view places the taskbar along the left edge of the screen. That might strike you as a configuration found in a GNOME 3 display. Xfce typically is configured with a bottom panel.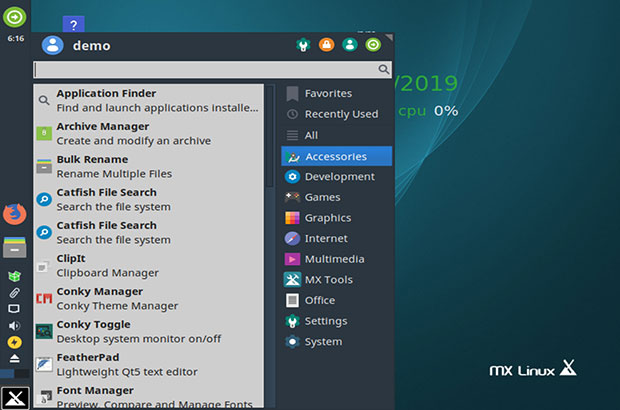 The tweaked Xfce desktop lets you add applets to the panel and launchers to the desktop. It provides full access to a well-populated menu arranged by application categories. Another style menu pops up with a right-click anywhere on the desktop.
---
The tweaking tool makes it easy to place the taskbar in any place you want it. You also can tweak several theme settings as well as choose Xfwm compositor or Compton, or none, and then tweak the settings even more.
To move the taskbar, right-click a blank spot on the panel and click Panel > Panel Preferences. Then click the Mode drop-down to select Deskbar, Vertical or Horizontal.
The Xfce desktop controls make this environment one of the most easily configurable desktops. Add the configuration panels MX Linux developers created for an unbeatable desktop you can set up your way.
Not a Clone
Despite MX Linux's origins and some shared antiX core components, MX Linux is not a clone. There are numerous distinctive differences that make each different. Most of those differences are in the OS underpinnings. They are evident in key areas such as the look and feel, and the application software base.
For example, the antiX distro is more lightweight by design. It relies more on command line structure instead of a fully dedicated graphical user interface, or GUI. MX Linux runs a real desktop environment rather than windows tiling managers such as IceWM, Fluxbox and JWM (Joe's Window Manager).
I want to keep the focus on what makes MX Linux 18.3 such a good Linux distro, so I will avoid the temptation to do a major comparison of the MX-came-from-antiX scenario.
MX Minimum Requirements
The Xfce 4.12.3 desktop has been around for a long time. The added system tools built into MX breathe fresh life into an already smart desktop environment.
The relatively low system requirements make MX Linux compatible with a wide range of hardware components. Despite the specialized "midweight status," here is what your computer needs to run MX Linux without a glitch:
a CD/DVD drive (and BIOS capable of booting from that drive), or a live USB (and BIOS capable of booting from USB);
a modern i486 Intel or AMD processor;
512 MB of RAM memory;
5 GB free hard drive space;
a SoundBlaster, AC97 or HDA-compatible sound card; and
for use as a LiveUSB, 4 GB free.
What's Inside
MX Linux offers an impressive set of basic traits. Of foremost importance is the kernel status. The kernels are secured against known vulnerabilities. The kernel is updated to 4.19.37. So-called "zombieload" patches are included.
This distro still supports both 32-bit with PAE (non-PAE kernel: antiX) and 64-bit architectures. You can upgrade or downgrade kernels easily with the MX Package Installer.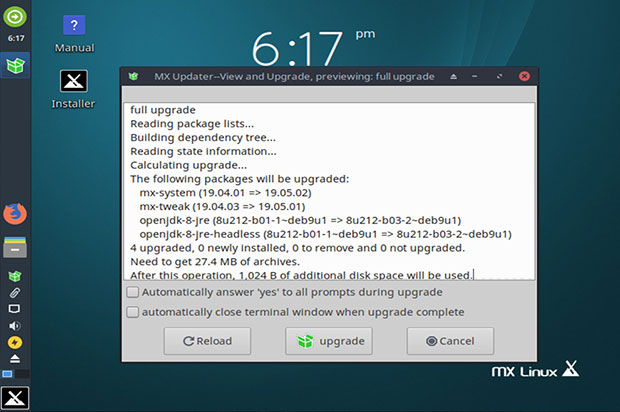 MXLinux lets you perform a system upgrade without doing a reinstallation for every new release.
---
Included are core antiX systems and automatic enabling of most Broadcom drivers. The release includes UEFI installer (64bit and 32bit), LUKS encrypted root, home, and swap partition options, along with a new Bug Manager for better user experience.
Installed Software includes LibreOffice 6.1 and the Firefox browser as default. The default software covers productivity (Orange Calendar, PDF-Shuffler), graphics (GIMP), communication (Thunderbird, HexChat), multimedia (Clementine, guvcview, SMTube, VLC media player) and a number of tools specific to MX Linux (called MX Tools) that range from a live-USB drive creator to a network assistant, package installer, repository manager and a live ISO snapshot creator.
Speedy Installation
MX Linux uses the installation tool popular in antiX Linux. It is not the most modern-looking installation tool, but it gets the job done with no hassles.
The directions and step-by-step process are easy to follow. You can install MX Linux to a USB drive and boot from it to totally bypass whatever operating system remains on the hard drive. This method gives you a live session with the ability to save all configurations as well as data and software changes directly to the USB drive.
You can do a frugal installation to the hard drive without configuring a dual boot and without messing with the operation of the existing operating system. Boot the computer without the USB stick in place and run your old system. Boot the computer from the USB stick and have MX Linux boot from the hard drive with all configurations, applications and personal data instantly available.
You also have the option of installing MX Linux to the hard drive and using it as the only operating system on the hard drive. Whichever method you select, MX Linux provides even more flexibility through unique installation routines. For instance, the ability to configure a workgroup and to share directories is available without having to install any extra package.
Bottom Line
MX Linux makes transitioning from any desktop operating system simple. It provides a computing platform that is a bit different and very reliable.
MX Linux is a powerful, easy-to-use computing platform that goes beyond lightweight performance without filling your computer with software bloat.
The latest MX Linux 18.3 ISO is a "refresh" release, not a major upgrade. It has all the recent updates, bug fixes and system updates. This distro does not offer rolling releases, however.
You can perform a system upgrade from an existing MX Linux installation when new refresh releases are issued to get all the updates since the original MX-18 version release. There is no need to do a re-installation with each new release.
Want to Suggest a Review?
Is there a Linux software application or distro you'd like to suggest for review? Something you love or would like to get to know?
Please email your ideas to me, and I'll consider them for a future Linux Picks and Pans column. And use the Reader Comments feature below to provide your input!