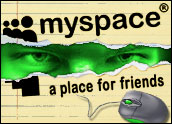 So far, the testimony in the Lori Drew cyber-bullying trial, which began Wednesday in Los Angeles, has generated headlines for its inherent drama and tragedy: the mother of a teenage daughter, accused of using the MySpace social network to stage an elaborate hoax that ends with the suicide of a troubled 13-year-old classmate, Megan Meier.
But the legal foundation for the prosecution's case seems like it belongs to a different court proceeding, one that doesn't involve a mother's tears and stories of teen girl gossip-mongering. Federal prosecutors are charging Drew with violations of the Computer Fraud and Abuse Act, normally reserved for hacking cases. Indeed, defense attorneys made it clear during opening statements that no homicide charge has been filed against their client.
Drew has pleaded not guilty to one count of conspiracy and three counts of using a computer without authorization. Prosecutors are claiming that the 49-year-old Missouri woman violated MySpace's terms of service agreement by using the account to harass or intimidate another person.
If found guilty, Drew could face a maximum of 20 years in prison. But that verdict could also set into motion ramifications for social networks, and for lawmakers eager to deal with the new phenomenon of cyber-bullying.
The Prosecutor's Gambit
Minneapolis attorney Michael Fleming, chairman of the cyberspace law committee for the American Bar Association, says there's been some controversy generated by U.S. Attorney Thomas O'Brien's intention of using the CFAA as the basis for his case against Drew.
"A lot of folks are upset because they don't like that application," Fleming told TechNewsWorld. "A lot of folks are upset that he's taken a concept written for hackers, and they're mad because he couldn't find an acceptable murder statute. But if you read the literal wording of the statute, the prosecutor says, 'I don't care if it was written for hackers.' The prosecutor is saying it applies to what Lori Drew did."
One of the criminal offenses prosecutable under the CFAA is the unauthorized use of a computer to cause physical harm to a person, or to cause the "modification or impairment, or potential modification or impairment, of the medical examination, diagnosis, treatment, or care of one or more individuals."
During Wednesday's testimony, Megan's mother, Tina Meier, told the court that her daughter was on medication for depression and attention deficit disorder and had previously tried to commit suicide.
The prosecution claims that Drew and her daughter, Sarah, along with an 18-year-old accomplice, used MySpace to lure Megan into a relationship with a non-existent "Josh Evans." When "Josh" turned against Megan in MySpace messages — and told her that "the world would be better off without you" — Megan wrote, "you are the kind of boy a girl would kill herself over." That last statement was revealed for the first time in open court Wednesday by O'Brien, and is at the heart of his case against Drew.
"It's a statute nobody thought of, and to some degree kudos to the prosecutor for getting clever, but a lot of people are upset about the use of that cleverness," Fleming said.
New Terms for Terms of Service Agreements?
The jury will have to decide whether Drew violated MySpace's terms of service agreement — which all members must acknowledge via mouse click before an account is provided for them — by using the account to post content that "harasses or advocate harassment of another person." Stalking is also prohibited activity on MySpace.
Different Web sites and social networks post their terms of service with varying degrees of transparency, Doug Isenberg, attorney and founder of Atlanta's GigaLaw Firm, told TechNewsWorld. "Just about every Web site has some type of terms of service agreement, and some of them are passively displayed on the Web site and some require more active acceptance by the user. For the most part, the courts have upheld the validity of those types of contracts."
Most users won't read through the entire TOS, Isenberg said, "because we're just so eager to start using the service and because they're not negotiable. You don't have a choice."
Lessons from a Sad Case
Some states are already trying to address cyber-bullying, Fleming said, and this case could accelerate their efforts. "This is, to me, a classic example of the law of unintended consequences. It's not that the law is behind the technology, it's that nobody thought through the consequences of situations where it's not a guy in some basement trying to steal passwords. If a legislature decides they don't like this result, they're probably going to come in and put some rules around what type of harms are we really trying to address with these particular statutes."
Isenberg also sees the potential for a second look at Web site terms of service agreements. "It's possible we could end up with some interesting new case law and learn something from the courts about what is and not required to make these TOSes legally enforceable. There are ways to present these types of online contracts properly and ways to do it improperly."