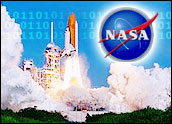 Say "NASA" and most people immediately think "space exploration." But space also offers a unique vantage point for observations of Earth, and NASA devotes significant resources to scientific projects aimed at understanding our own planet and our impact on it. This is the first of three articles about NASA's Earth-centric efforts and the role of information technology in them.
What can we learn about the Earth from high above it, and how? The gathering of information from the air goes back nearly 150 years. The earliest known photos from the air, taken as early as 1860, were made from hot-air balloons, and Civil War generals are known to have gained battlefield intelligence in this way. Such pictures were shot by humans, but a later refinement — the real beginning of what we now call "remote sensing" — entailed mounting cameras on high-flying kites. This technique was used to take famous pictures of San Francisco after the 1906 earthquake.
Today, remote sensing captures a wide range of electromagnetic information: infrared, ultraviolet, radar, laser light, spectroscopy and more. Typically, this data is gathered by satellites in orbit. NASA alone has 18 spacecraft collecting Earth science data that is used to investigate practically every terrestrial substance and process, from the flow of ocean currents to the spread of invasive species.
Geology, oceanography, climatology, meteorology, biosphere research, ecology, mineralogy … the list goes on and on. Analysis of raw data has been important for years, but the most powerful computing technologies are now being used at NASA for modeling natural systems, such as the rise and fall of the Earth's tectonic plates or the three-dimensional structure of lightning bolts.
Pure or Applied Science?
You might think this sounds like "pure science" that has no real immediate application, but according to James Fischer, project manager of NASA's Computational Technology Project, these projects are actually very practical. "It's trying to understand the Earth so you can make predictions," he told TechNewsWorld.
The Computational Technology Project, for example, is one element of a NASA information technology framework that maintains actual computing facilities in addition to research-sponsoring bodies. Located at the Goddard Space Flight Center near Washington, D.C., the Computational Technology Project is one of the latter. Started in 1992 — and scheduled to wind down next year — the CT Project is part of the Earth Science Technology Office (ESTO), NASA's umbrella agency for Earth science research, which also includes the Advanced Information Systems Technology program.
The CT Project's purpose is to enable development of the advanced technology platforms — which are almost exclusively software — needed to carry out various Earth science research projects. "We find science-led groups that know the kind of technology they need, and we solicit proposals from them to develop appropriate technology by bringing in computational scientists or software engineers," said Fischer.
Chief among these is the Earth System Modeling Framework, an attempt to "facilitate coupling and to make models interoperable across organizations."
While project teams are often widely dispersed, the computers used to develop these new technologies are in most cases the large systems located at Goddard and at NASA's Ames Research Center in California, run by the NASA Center for Computation Sciences.
Clustering for Power
As you'd expect, given the complexity of their tasks and the massive amounts of data involved, these projects are not nickel-and-dime operations. High-powered clustering is definitely the architecture of choice. The two centers contain four of the top 160 supercomputers in the world.
Goddard is home to a large Compaq cluster, an HP AlphaServer SC45 and a "self-built" 528-processor Pentium 4 Xeon system, while Ames houses a 1,024-processor Silicon Graphics Origin 3000 cluster and a recently commissioned 512-processor SGI Altix supercomputer, said to be by far the largest system ever to run Linux.
The latter system currently is being used on a project called Estimating the Circulation and Climate of the Oceans (ECCO). Designed in conjunction with NASA's Jet Propulsion Laboratory, MIT and the Scripps Institution of Oceanography, ECCO aims to integrate real-time data transmitted from satellites and terrestrial observation. The new Altix system allows real-world modeling at a resolution never before possible. In fact, NASA's researchers hope to increase that resolution even further as their processing power increases.
According to Bob Ciotti of the Terascale Application Group at NASA Ames, "by having a single system image, we benefit from a more efficient and simpler programming development environment and a more robust I/O architecture that's a good match for applications where we're pushing lots of data."
On the Grid
The NASA Advanced Supercomputing division at Ames is developing the Information Power Grid, a project that actually has nothing to do with electricity or blackouts. The IPG is growing into a network of geographically separated, heterogeneous computing resources — processors, storage and scientific instruments — available to NASA researchers through a common interface.
The idea of the IPG is to optimize problem-solving capabilities by tapping into resources wherever they might be available. While the IPG is still in its early stages of development, Walt Brooks, acting head of the Advanced Supercomputing division, said: "We're getting a technology ready that we think is really critical. If we can bring the promise of this technology to fruition, I see a fantastic cost-savings leverage for the agency."
NASA's activities are so far-flung that it's hard to tell what part of its vast resources are devoted to Earth rather than outer space. But for all of these projects, the words of medical researcher and writer Lewis Thomas can serve as a fitting caption:
Viewed from the distance of the moon, the astonishing thing about the earth is that it is alive. Aloft, floating free beneath the moist, gleaming membrane of bright blue sky, is the rising earth, the only exuberant thing in this part of the cosmos. It has the organized, self-contained look of a live creature, full of information.
Thanks to NASA's IT research, that information is more accessible than ever before.