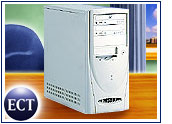 In some ways, the computer business is a bit like show business. There are stars that become household names — names to conjure with. But for every one of them, there are dozens of workaday actors who may deliver perfectly credible performances but remain largely anonymous.
Something similar goes on with personal computers. Everybody knows Dell — currently the Tom Cruise of the business with about 30 percent of the desktop PC market. Hewlett-Packard is almost as much a household name, especially with its current run of imaginative TV ads. Gateway became well known for its sales model, and Apple has a public profile far out of proportion to its current market share.
But between one-fourth and one-third of all desktop PCs currently shipping come from generic "white box" assemblers and resellers. White-box manufacturers have chosen to trade the glamour of a high profile — with its high marketing and distribution costs — for the nuts and bolts of commodity computing.
Research firm IDC regularly publishes reports analyzing the white-box market, and the most recent one suggests that white-box market share in the PC sector is around 28 to 30 percent. The first question to ask when considering white-box market share is, not surprisingly, the following one: How do we know? After all, this market segment is by definition fragmented, local and diverse.
Buyers and Sellers
IDC senior analyst David Daoud, co-author of the most recent report, explains that white-box market share is determined by a process of elimination. Every computer needs a processor, and, he says: "Intel and AMD together hold a 99 percent share of the processor business. And you know the shipments of the top 20 branded companies. It's safe to assume that the rest is white box. There's a merchant market as well, that you have to take into account."
Elsewhere — particulary in Asia and some other "emerging markets" — white-box computers account for much higher percentages.
There are several good reasons for manufacturers to choose this route. White-box computer makers range from a local shop-front operation that custom-builds individual machines to companies like Systemax, which — with its claims of 40,000 products and 2 million customers — might be edging out of the white-box category into the branded space.
Especially while they're relatively small, white-box makers enjoy many of the advantages traditionally associated with smaller enterprises of all kinds, including agility, adaptability, flexibility and proximity to customers.
In an industry marked more than any other by rapid obsolescence, vendors holding low inventory — and not tied to public perception of established product lines — can adopt innovations more quickly than some of their larger competitors. They can offer a greater range of customized solutions, and they often can offer customer support at a more local level than national or multinational companies.
Fluid Markets
At the same time, white-box makers are often better placed to take advantage of the fluid nature of the international components market, with its opportunities for picking up spot deals on discounted products. Who buys white-box computers, and why? Relatively recent estimates have shown the home-user market taking up almost 40 percent of the output, with small and medium business claiming about another 38 percent. Education and government have tended to make up the balance.
The reasons for this are varied and sometimes surprising. Yes, white-box machines are usually cheaper, by at least 10 percent, than their big-name rivals. But many buyers prefer to stick to what they see as the implicit quality of major-name products and the stability of the companies that make them.
But others point out that white-box manufacturers generally use the same tried-and-true components as their bigger competitors — and that when it comes to service and support, local is best.
When asked about the question of support, IDC's Daoud points out that "small organizations really count on the local assembler to be their main support. And what I hear from consumers is that anyone who buys a system from any vendor ends up complaining about the quality of tech support. I don't think there is such a thing as 100 percent excellence in this area, with one exception, and that is eMachines."
New Trends
While the current outlook seems positive, things have not always been sunny for white-box vendors. The IT industry's 21st-century hard times have meant both consolidation at the big end of town (think HP and Compaq) and aggressive price-cutting and commoditization (think Dell). This squeezed white-box makers, but it also alarmed major component makers that didn't want to be in thrall to such a small number of huge customers.
As a result, they began to offer special cost-lowering programs and partnerships aimed at the independent market. "The company that led that first clearly was Intel, I think in conjunction with Microsoft," Daoud said. "Very quickly, everybody else followed: Seagate, Maxtor, software makers, all the way to component distributors."
At the same time, he said, white-box makers began to organize themselves into a formidable interest group, now known as NASBA — the Association of Channel Resellers.
But the desktop PC market is, to a large degree, steady and saturated. The next frontier, in the opinion of many commentators, is the portable-computing market. "For the white-box guys, the problem is that they don't have a brand presence, and they're having a hard time getting into their client base mainly due to quality-assurance issues," said Daoud.
"What they need to do is to rely heavily on an outsourcing element, by which I mean getting Intel to back their presence and to supply them with a program that's similar to what Intel does in the server business," he added. "That is, you can buy a server from Intel as a kit, you assemble it and put your logo there, and you say 'backed by Intel.' Your clients would feel very good about that. The challenge is how to duplicate this model in the laptop business."