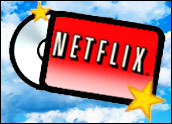 Netflix has launched a new set-top TV box that may usher in a new generation for the company's movie distribution model — online streaming downloads directly to a consumer's television. To get the job done, Netflix has teamed with Roku to build the new box, called "The Netflix Player by Roku."
The player is about the size of a paperback novel, comes with a remote control, and costs US$99.99. To get started, Netflix customers connect the player to their TV and to the Internet via WiFi or Ethernet, then connect to their existing Netflix account and their on-demand video queues. While the selection of movies still must take place via a Web browser on a PC or Mac, the remote control lets users select movies and TV shows from their queues.
The set-top box requires no additional fees. As long as the customer's existing Netflix plan allows for free unlimited instant video streaming — $8.99 per month and up — the customer is ready to watch using The Netflix Player by Roku.
"We're excited to bring the first Netflix ready device to the market," noted Anthony Wood, CEO and founder of Roku. "The seamless integration of the Netflix service into our player has resulted in true ease of use for the consumer. Now, streaming video isn't limited to people sitting in front of the PC; it's ready for the TV in the living room."
Long Time Coming
"Obviously, this isn't entirely unexpected. We all know Netflix has been planning this type of device for quite a while. Initially they were going to build it in house, then they were partnering with LG, and now they've gone with Roku," Greg Ireland, IDC research manager for consumer video markets, told TechNewsWorld.
"We've know for a long time that Netflix understands that if that digital downloads are the opportunity of the future, and delivering those downloads to the television is essential to preserving the whole value proposition of home video, this was an expected move," he added.
Netflix's last big public move in the online download space came in mid-January, when the company announced that most subscribers would get free unlimited streaming of movies and TV shows on their PCs without any additional charges. Mac OS X users, however, were left out in the cold without an Apple-friendly streaming solution. The Netflix Player by Roku, however, should change that, providing that the Apple user wants to view streaming content on a TV.
The HD Question
The Roku device comes with near-universal compatibility with TVs. It features standard RCA jacks, S-video, component video, HDMI (high-definition multimedia interface) and optical audio jacks, which means it will work with virtually any TV, A/V receiver or home theater system. However, right now, Netflix isn't streaming any high-definition (HD) content to PCs or TVs.
HD will come, Steve Swasey, Netflix vice president of corporate communications, told TechNewsWorld. "We haven't announced any specific time frame, but we'll have it in the future.
"All streams are currently SD — standard def — so they are DVD quality. It depends on your Internet speed … 1.4 Mbps (megabits per second) is best. If it drops below 1 Mbps, you might have something more like VHS quality, so it's really determined by the pipes into your house, the Internet connection you have," he added, noting that the streaming is similar to the Netflix PC version in that the Netflix Player with Roku can determine a customer's connection speed and deliver the appropriate level of video quality.
Mixed Bag of Challenge and Opportunity
"Clearly, this is a device category that others have tried and haven't had success with. As examples, Akimbo introduced a box four years ago. MovieBeam, which was funded by Disney, offered a similar device. And Apple, with the Apple TV product," IDC's Ireland said, noting that despite the lackluster effects of predecessors, Netflix has some angles in the company's favor.
Most notably, Netflix is starting with a large base of existing customers — about 8 million members. The Netflix streaming library of titles is also large — about 10,000 titles. That's roughly just 10 percent of the titles Netflix makes available through its regular mail-based service; however, by comparison, Apple with its Apple TV only has about a 1,000 movie titles available (though the addition of television shows would ramp that number up considerably for Apple).
IDC research indicates that getting Internet-based movies and television to living room TVs is becoming increasingly important to consumers, and while interest in on the rise, media extender devices have typically had a hard time penetrating large consumer markets, Ireland said. Plus, even if setting up the Netflix device is relatively easy, the simple fact that customers have to pay for the device, figure out how to install it, and make sure they have a decent Internet connection may be surprisingly troublesome and slow down adoption rates.
As a case in point, TiVo has been successful, but the company's success has been eclipsed by satellite and cable digital video recorder boxes and services that were installed and set up by the companies themselves.
"There's some big hurdles to get over," Ireland noted. Still, is it a good strategy?
"Absolutely," he said.