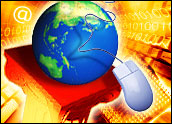 Nielsen//NetRatings is reporting that broadband connections for the first time reached51 percent of the American online population at home during the month of July,as compared to 38 percent last July.
Sixty-three million Web users connected to the Internet via broadband during July 2004 as compared to 61.3 million accessing the Internet through narrowband.
Overall growth for broadband connections rose 47 percent year-over-year, while narrowband dropped 13 percent annually.
"Despite a plateau in the growth of U.S. Internet access, we've seen continued high double-digit growth in users' broadband access," said Marc Ryan, senior director and analyst at Nielsen//NetRatings.
"We expect to see this aggressive growth rate continue through next year when the majority ofInternet users will be accessing the Internet via a broadband connection."
Broadband connections include ISDN, cable modems and DSL; narrowband connections include modem speeds from 14.4K through 56K.
Broadband penetration rated highest among those between ages two through 34 years as compared to those 35 years and older.
The 18 to 20 age group possessed the highest penetration of broadband surfers at 59 percent, followed by kids at 58 percent, 25 to 34 year olds at 55 percent, and teens and 21 to 24 year olds both at 53 percent.
In comparison, seniors between the ages of 65 to 99 years have the lowest penetration of broadband connections at 34 percent.
"Not surprisingly, the younger set of adults, kids and teens, who grew upwith PC technology, have the highest penetration of broadband access," saidRyan.
"The norm of waiting for a page to load has gone by the wayside throughincreased broadband access. With high-speed access in the majority, we'relikely to see the richer, more interactive content becoming the standard."