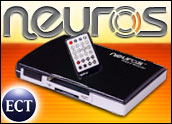 With Apple adding video to its iPod line of digital media players, the scramble is on to provide watchers with content to occupy their eyeballs.
One way to obtain content is to pay for it. Since the introduction of its "vidpod," Apple has been steadily adding to the video library at its iTunes store. In addition to movie trailers, music videos and Pixar shorts, Apple has supplemented its initial TV show portfolio of "Desperate Housewives" and"Lost" with episodes of America's tepid knock-off of the British sitcom "The Office" and the Sci-Fi network's outstanding revival of "Battlestar Galactica."
Another way to create content for a portable video device is through the software route. Not a week seems to go by now without a new program entering the market or an old one adding features to turn video captured on a PC into content suitable for on-the-go hardware.
Distinct Hardware
One of the newest ways to cook up some content, though, is through a distinct piece of hardware like the Neuros MPEG Recorder 2 (US$149.99).
The sleek black unit is very compact in size — smaller than a paperback book and a lot thinner — and simple in design.
Essentially, the unit is a digital video recorder. But instead of using tapes or discs, it uses flash memory cards.
It accepts either CompactFlash cards or Sony Memory Sticks. The choice of media is tailored for owners of iPods or Sony PSPs — although video recorded with the device can be played on a computer through a program like iTunes.
The unit is shipped without media, so you have to obtain a CompactFlash Card or Memory Stick before you can use it.
Whichever media you buy, though, remember bigger is better. An episode of "Desperate Housewives," without commercials, consumes close to 210 megabytes of storage.
Connections
Once you have proper media for the device, setting it up is easy. My caveat is that if you had trouble setting up your old VCR, you could stumble setting up this DVR.
First you insert a flat battery into the unit and plug in its power adapter. Then you connect it to a TV, VCR, camcorder, cable or satellite box, or whatever you want to record from.
The unit has input and output jacks on its back. Leads for the jacks have a single mini-plug on one end and the traditional yellow, red and white RCA plugs on the other.
Typically, you would attach the lead from the DVR's output jack to your TV and the one from the input jack to a device like a cable TV box or VCR. Since my VCR is connected to my TV, I plugged the DVR's output to the VCR and the input to my cable box.
What's important to remember is that you need to send the DVR's output to a TV because that's the only way you're going to see its menus. The unit does not have a display of its own.
Convenient to Use
After connecting the device, you control it with the infrared remote packaged with it.
The unit is designed for displaying photos and photo slideshows on your TV, playing MP3 and WMA music files and, of course, showing and recording video.
Video is recorded in MPEG4 format and in a choice of three resolutions: TV quality VGA (640-by-480 pixels), QVGA (320 by 240) for the video iPod and WQVGA (368 by 208) for the PSP.
Even at its highest quality, though, the video recorded with the unit didn't appear to me to be as good as videos purchased from the iTunes store or that created by some of the software programs on the market.
Nevertheless, the Neuros recorder can be a handy gadget to have around, not only because of its unobtrusive size, but because it is very convenient to use.
---
John Mello
is a freelance business and technology writer who can be reached at
[email protected]
.
---

Read More Reviews…
---