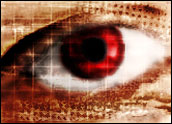 A British company has introduced a new camera that can peak under clothing to detect weapons, explosives or drugs.
Called the "T5000" and created by ThruVision, the camera has a range of over 80 feet and works with moving subjects, making it particularly applicable for the security industry.
To see, the camera emits natural electromagnetic rays called "T-rays," or terahertz. Though its device can purportedly see objects underneath clothing, ThruVision said the T5000 does not reveal physical "body details" and the screening is harmless. ThruVision plans to show the device March 12-13 at the HOSDB 2008 Exhibition (Home Office Scientific Development Branch), a UK event that showcases the latest security equipment.
ThruVision developed the T5000 in collaboration with the European Space Agency. The use of T-rays for visual imaging is relatively new and has been used by astronomers to examine dying stars. T-rays fall between microwaves and infrared lights on the electromagnetic spectrum, and they can pass through a variety of materials including clothing, paper, wood, plastic and ceramics. They can't, however, penetrate metal or water.
T-rays emit radiation that, unlike X-rays, is non-ionizing, so it doesn't damage tissue like X-rays.
Continuous and Pulsed
"Although there's a variety of ways you can describe T-rays, there's two [basic] flavors of T-rays," John Whitaker told TechNewsWorld. Whitaker is a research scientist and adjunct professor for the Electrical Engineering and Computer Science Department at the University of Michigan.
"One is continuous waves, an analogy to which is like a light bulb that's on all the time … or you can make the beams pulsed where a device would emit a short duration of energy," he explained, noting that continuous T-rays can be used to detect hidden items, while pulsed T-rays emit a range of frequencies that can then be used to identify the substance of an item.
Determining the makeup of an item could be accomplished by determining how the item absorbs or reflects different T-ray frequencies. For example, a blob of child's Play-Doh might absorb the same percentage of a T-ray in a certain frequency as a blob of plastic explosive, but at a different frequency, the two items might result in differing levels of absorption or reflection, resulting in an identification.
Peekaboo With Tinfoil
"You could shield the T-rays with tinfoil," Whitaker said, noting that metal can shield contents from detection. "But if you're carrying it on your person, you're not going to get through [airport security] because there's a metal detector," he added, also noting that security checkpoints usually also have a combination of threat detection methods, such as dogs and luggage swabbing for detecting chemical residue.
Still, even if a weapon were shielded from T-rays with aluminum foil or some other sort of metal casing, T-rays could still be used to identify the presence of an object that would then require a human for more detailed examination.