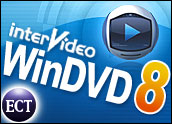 Let's face it, most software that's packaged with Windows PCs is junk. It's either too feeble to do much of anything or a try-me version that, should you use it in earnest, will hold your data hostage when its trial period expires.
One program that I've found to be an exception to that rule, though, is WinDVD. In fact, when I bought a computer for my personal use and WinDVD wasn't on it, I appropriated the cash to buy an over-the-counter version of it.
What's WinDVD used for? Primarily it's a DVD movie player. Sounds like a simple task, yes? However, it takes some sophistication to be a state-of-the-art movie player in these days of the emerging home entertainment center and converging hardware platforms.
Video Everywhere
In its latest release of WinDVD, Version 8, InterVideo, which bought image and video editing software maker Ulead earlier this year, is accommodating the desire by consumers to watch video everywhere.
If you have a Windows Media Center PC, WinDVD will support playback on a big screen HDTV with immersive surround sound. It will also stream media content through a home network of UPnP (Universal Plug and Play) devices.
On the desktop, the player supports the babel of video formats in the market and will simulate Surround Sound with just two speakers or in a pair of stereo headphones.
What's more, this version of the player has a "boss" key. No, it's not designed to display "boss" video — it'll do that automatically. It allows you to immediately hide what you're watching from someone bent on monitoring your behavior.
Better Playback Control
For laptops, the player is optimized to save power. It also gives you manual control over its display so you can adjust it to your environment. In addition, it has a "TimeStretch" feature so you can speed up playback — a useful feature when watching movies when time's constricted, like during an airplane flight.
Unlike earlier versions of the program, this edition gives you greater control over playback with a video and audio center.
The video center gives you control over how your video is displayed. For example, you can stretch your video to common display ratios like 4:3 and 16:9.
It also lets you control a video's color — its brightness, contrast, hue and gamma — manually through sliders, or via presets for display types — CRT, LCD, TV and Projector.
In addition, you can apply special affects to the video — make it look like a negative or give it the sepia look of a vintage photograph.
The audio center allows you to tweak the sound of your video. The center has a virtual graphic equalizer for manual manipulation of audio, as well as presets for various music types rock, country, jazz, and so forth.
Captures Clips
A nice feature of the program carried over from past editions can turn individual movie frames into digital photos. You simply freeze a frame, click the camera icon and a photo appears on a palette adjacent to the video window. Photos on the palette can be saved individually or in batches.
A new adjunct to frame capture in this version of the program is QuickClip. That allows you to capture up to 30 seconds of video from a movie and make it into an animated GIF file. The animation can be sent to friends or posted on a Web page.
Bookmarks Added
Another handy feature built into the program is bookmarking. You can right click on a frame and bookmark it. If you want to return to a bookmark, you right click anywhere on the viewing area, choose "browser" from a pop-up menu, select your bookmark and you're instantly taken to it.
WinDVD 8 is sold in two versions: Platinum (US$59.95) and Gold ($39.95). The Platinum version includes support for UPnP devices, H.264 (iPod video) file support and high octane 96 KHz/24 bit audio decoding.
Though the improvements in this latest edition of WinDVD may be marginal for some, users with state-of-the-art media needs will find them essential.
---
John Mello
is a freelance business and technology writer who can be reached at
[email protected]
.
---

Read More Reviews…