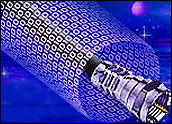 An election looms, and the candidates' talking points are being set: war, the economy, the environment. Now a new advocacy group wants the next president and lawmakers to add one more item to their to-do list: a national broadband policy that ensures high-speed Internet access for all Americans.
The group, InternetForEveryone.org, features an array of high-profile technology experts such as Google's Vinton Cerf, the man who helped write the protocols for the Internet; and Jonathan Adelstein, one of the Democrats on the Federal Communications Commission.
InternetForEveryone.org did not announce any specific proposals for Congress to consider, but members are urging the public to help pressure lawmakers — and the next administration — to develop incentives that will result in higher broadband speeds at more affordable prices in all parts of the country.
Let the High-Speed Conversation Begin
"It's an impressive lineup," Leslie Harris, president of the nonprofit, nonpartisan Center for Democracy and Technology (CDT), told TechNewsWorld. Among InternetForEveryone.org's founding members are digital law experts Lawrence Lessig of Stanford and Tim Wu of Columbia, along with an assortment of CEOs and venture capitalists.
"From what I can tell, this is not about pushing one idea over another," Harris said. "It's about a national conversation, getting consumers to be a part of a political force. We're the country that created the Internet, but our broadband penetration is not growing as fast as many other countries, either in the number of people served or in speed and the capacity of the pipes."
High-Tech Policy Agenda
CDT is also asking citizens to provide input on what the next administration should emphasize in technology policies. The group's online initiative, The Internet in Transition, prompts comments on Net neutrality, privacy and greater access — and a national broadband policy would impact all of those issues, Harris said.
"We have to start thinking of broadband in terms of its implications for the economy and the innovation agenda," she said. "I think we have [presidential] candidates who have a deeper understanding of that than the current administration."
Implications for the Wired Home
If the group can achieve its goals, the impact on society could be huge, observed Beki Grinter, associate professor at Georgia Tech's School of Interactive Computing.
"I think it's very necessary. … Broadband is where a lot of innovation is heading in the technology industry," she told TechNewsWorld. "One example is the smart home, networked with all the resources that the Internet provides, but also working with doctors online and making that available to all Americans. You can reflect on the history of the telephone and the 'lifeline' guarantees. … That's what universal access needs to mean now regarding broadband — and I think it's a way to make inroads into the digital divide."
User-Friendly Access
A successful plan for greater access to broadband shouldn't necessitate advanced computer skills for anyone who wants to connect to the Internet, cautioned Grinter.
"The technology push is one piece of it, making the economics work so that the technology can roll out. But the technology pull — making people want to use it, making them feel comfortable, safe and in control — that is going to be equally important," she said. "It's a potential obstacle that doesn't receive enough attention, the usability of these technologies."