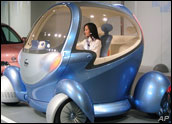 Japanese auto manufacturers will show off their hottest, quirkiest and most environmentally friendly automobiles at the upcoming 2007 Tokyo Motor Show later this month. Some car makers, however, are already previewing their upcoming creations, the most interesting of which are the concept cars.
While Honda, Nissan and Toyota have all unveiled boxy, bubbly and undeniably cute exterior designs, the companies are also bringing environmentally friendly alternative fuel and hybrid concepts into the mix.
Nissan's Pivo 2, for example, looks like a bubble on wheels with round corners, lots of glass and a cabin that can revolve 360 degrees, letting a driver enter the front door from any direction. Plus, it's electric.
The Pivo 2, according to Nissan, also employs a so-called Robotic Agent that "serves to connect the car and driver, engendering feelings of affection and trust," though Nissan isn't particularly clear on how this actually occurs.
Soft Touch
Honda says that its theme for its automobile booth at the Motor Show this year will be, "For the endless joy of mobility on our earth." Based on that theme, Honda says it will display a variety of advanced environmental technologies that address issues such as a reduction in CO2 emissions and join them with the fun of mobility.
To that end, Honda's Puyo, like the Pivo 2, is small, round and has a top half that's mostly windshield and glass windows — Honda calls it a "seamless soft box form factor." The word "Puyo," by the way, is a Japanese onomatopoeia that expresses the sensation of touching the vehicle's soft body, and Honda says it was striving to create a personable design with the feel of an adorable pet. In addition to being manufactured with soft, tactile materials, the Puyo is an environmentally friendly fuel cell vehicle, the company says.
Toyota aims to "showcase its pursuit of the essential emotional appeal of cars — being fun to drive and a pleasure to use — and to indicate its approach toward making sustainable mobility a reality so that people can coexist in harmony with the environment," the company said.
Toyota's RiN focuses on comfort and serene, healthy living, the company said, noting that "through their relationship to the vehicle, drivers are encouraged to re-evaluate themselves and, furthermore, to turn their attention to society and nature, producing a healthy rhythm for both mind and body."
In addition to heated seats and an oxygen-level conditioner and pinpoint humidifier, the RiN uses green glass that reduces infiltration of ultraviolet and infrared light and makes the surroundings seem brighter and clearer in order to increase cabin comfort, Toyota says.
Toyota's 1/X concept car, however, is designed to focus on being environmentally considerate while maintaining an interior space on par with the company's Prius — but weighs about one-third less. The 1/X combines fossil fuel consumption-reducing flexible fuel vehicle technology that lets an engine run on gasoline and ethanol, mixed in arbitrary proportions, with a plug-in hybrid powertrain.
Alternative Power on the Rise
All in all, there are even more vehicles coming to the Tokyo Motor Show, but the concept cars are giving solid attention to alternative and environmentally friendly power and fuel sources.
"There is a lot going on," Felix Kramer, founder of CalCars, a California organization that modifies and promotes plug-in hybrid vehicles, told TechNewsWorld.
"Basically we have seven car makers now saying plug-in hybrids are a good idea, and we have a number of car makers announcing concept cars of various sorts," he added, noting that Toyota also plans to start delivering prototype plug-in hybrid versions of its popular Prius hybrid car.
Hybrid Good, Plug-In Hybrid Better
"With a hybrid, you just have a gasoline car that you make more efficient — you can roughly double the MPG of a car. With a plug-in hybrid, you're not simply dealing with a gasoline-only vehicle; you now have second energy source coming into the car, which is electricity, and at that point you're not just reducing gasoline, you're displacing gasoline with electricity," Kramer explained.
"And electricity has three things going for it. It's cleaner … it's cheaper … and it's domestic — we don't use imported oil to generate electricity," he added.