The Apple Watch may have dominated Apple's Spring Forward event earlier this week, but an unexpected new MacBook could herald the future of mobile computing. It will be available April 10, both online and at Apple retail stores and select authorized resellers.
Thinness, lightness and tomorrow's technology are its salient features.
Its 12-inch Retina display is 0.88 mm thick, and the MacBook itself is 24 percent thinner than the 11-inch MacBook Air. Its keyboard is 34 percent thinner.

The MacBook uses a butterfly mechanism that's 40 percent thinner than a traditional keyboard's scissor mechanism but is four times more stable.
It weighs only 2 pounds and doesn't have a fan.
The MacBook has only one port — a USB-C port. It supports higher-wattage charging; USB 3.1 Gen 1 data transfer rates of 5 Gbps; and DisplayPort 1.2, so users can hook up the computer to an external high-definition TV.
"I'm a techie guy, and the thing that struck me during the event was how little space the actual computing and processing and memory parts of the system take up, and how the overall majority is battery," said Jeff Orr, a senior practice director at ABI Research.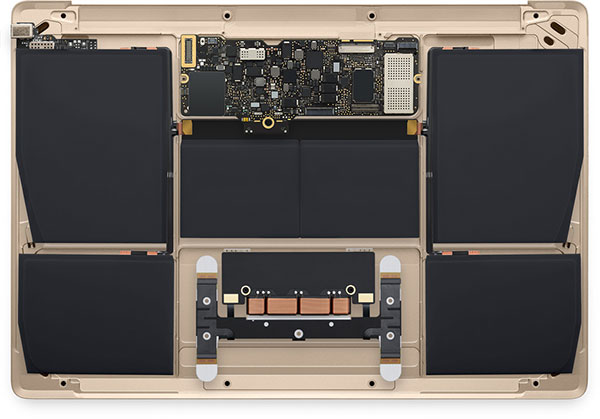 People will rethink "the building blocks of what computing will be in the future," and the MacBook's design is pointing the way, he told TechNewsWorld. Ultimately, "the computing function will still be happening, but it will be contained in some other box that's either in your environment or on your person."
MacBook Distinctions
The MacBook has a stainless steel dome switch under each key, which is backlit with its own single LED light.
The Retina display uses 30 percent less energy than existing Mac notebook Retina displays, but it is equally bright.
The MacBook has an all-new Force Touch trackpad with built-in force sensors and haptic feedback. Users can customize the trackpad's feel, and the trackpad enables a new gesture called "Force Click" — a click followed by a deeper press — for various tasks.
"I'm a little skeptical of the haptic feedback and force-sensitive touchpad input," said Eric Smith, a senior analyst at Strategy Analytics.
"The Force is not with this force-sensitive solution. Windows 8 and 8.1 relied heavily on those features for non-touch PCs, and the result was a lot of upset customers," he told TechNewsWorld.
The same miniaturization techniques used in making Apple mobile devices were applied to create a logic board that's 67 percent smaller than that of the 11-inch MacBook.
The battery has 35 percent more capacity than traditional cells.
Tomorrow's USB Port Today
If you've ever wrestled with plugging something into a USB socket only to find that you had the plug upside down, the USB-C port is for you. It's reversible, meaning you can bung in a plug without worrying whether it's right side up.
The port is one-third the size of a traditional USB port.
"Apple had to limit the number of ports based on cost and thickness," said Smith.
USB-C supports other standards, such as DisplayPort, and "as opposed to Apple's proprietary standards and an old-style USB port, adopting USB-C is a good move for Apple overall," Smith suggested.
It's not backward-compatible with earlier USB plugs, though, which could be a problem. The issue is not so much with actual connectivity — it has a higher link rate so could run a USB hub "with ease," Smith pointed out — but because users would have to bring along additional adapters, always a nuisance and extra weight.
Fitting Into the Apple Family
The MacBook is pricey, with the lower-end version starting at US$1,299. [*Correction – March 12, 2015]
It 'fits in really nicely within Apple's portfolio," Orr said, but "you can get a reasonable Chromebook for $300 to $400."
Still, the price "may not be as big of a turnoff" for Apple fans, Strategy Analytics' Smith opined, particularly those who want an extremely portable PC solution.
---
*ECT News Network editor's note – March 12, 2015:
Our original published version of this story incorrectly stated that pricing for the new MacBook started at $1,600. The base price actually is $1,299. We regret the error.