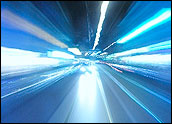 Western Digital is now shipping the next generation of its 10,000 RPM (revolutions per minute) "Raptor" series drives. The new drive doubles the previous capacity to 300 GB and picks up a 35 percent performance increase.
Aimed at PC and Mac enthusiasts as well as users of professional-grade workstations that can benefit from high-performance drives, the new WD VelociRaptor is a SATA (Serial Advanced Technology Attachment) hard drive built in a 2.5-inch form factor that's encased in a special built-in "IcePack" heat sink. The IcePack keeps the little drive extra cool, WD said, and at the same time provides the chassis for mounting the drive in standard 3.5-inch bays.
Passing Lane Open
"From the standpoint of the speed of the drive, there are some 10,000 RPM drives out there, but they are mostly higher-end drives for enterprise class servers," Charles King, principal analyst for Pund-IT.
"But from the standpoint of a small form factor drive, these are designed for workstations and high-end gaming machines — this is the fastest one out there that I've seen," he added.
Surprisingly Green
"The data throughput is about 50 percent faster than a 7,200 RPM drive, and it actually consumes less power than the slower WD, what they call their 'GreenPower' drives, which is interesting. So you can have better performance and less power consumption. So that's a good thing," King said.
The current conventional thinking in the storage world is that eventually most devices will move to faster and more durable solid-state drives (SSDs) as prices decline and storage capacities increase. However, the cost of conventional hard drives continues to decline at faster rates than SSDs, King noted.
"What WD might have here is that you can have your cake — better performance, faster throughput, and a lower price — and eat it, too, which is to say to get all that and consume less power than you would with a slower drive," King explained. "So they've got a very interesting technology with some interesting benefits associated with it."
WD says the new hard drives will be available on Alienware's high-performance ALX gaming desktop by the end of April. At launch, WD said, Alienware will offer two 300 GB WD VelociRaptor hard drives in RAID 0 configuration as well. WD is also selling the drives on its own online store for US$300, but WD says the drives should be available at other outlets by mid-May.
Heat, Power and Laptops
"The drive itself, at 2.5 inches, runs cooler than our previous generation Raptor and runs at the same temp as most drives in this form factor," Heather Skinner, a spokesperson for WD, told TechNewsWorld.
"The IcePack was originally designed to fit the drive into a 3.5-inch form factor for desktop systems," she explained, noting that WD decided to take advantage of the drive size and design to utilize a passive heat sink to have it run even cooler.
The IcePack isn't necessary to keep the heat down — it's just an added benefit, according to the company. At the 2.5-inch form factor, might these 10,000 RPM drives find their way into laptops any time soon?
"The reason why it doesn't go into laptops is that the pull for power is way too much — it wouldn't even spin on," Skinner said. "But it would be nice, wouldn't it?"