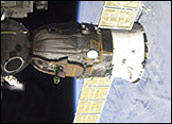 The blast-off in a Soyuz spacecraft from Russia's Baikonur cosmodrome in Kazakhstan will deploy a replacement crew for Russian cosmonaut Gennady Padalka and NASA astronaut Michael Fincke, who have manned the orbital platform since April.
Expedition 10 will be launched to the International Space Station on October 11 — two days later than originally scheduled due to problems with the docking system.
The commander of the new crew is Leroy Chiao of NASA and Russia's Salizhan Sharipov is the flight engineer.
AIDS Vaccine Experiment
The crew of Expedition 10 will perform an experiment that could help scientists develop an AIDS vaccine.
Speaking Thursday at a pre-flight press conference in Zvyozdny Gorodok (Star City) outside Moscow, Russia's Sharipov remarked, "Our expedition plans to conduct an experiment that would help find a medicine to fight AIDS. We will only conduct the experiment, which was developed by scientists."
Sharipov said the mission crew will take special capsules to be installed aboard the station. "We will have to perform a lot of work to mix samples and monitor them, and we will also have to maintain a certain temperature in these capsules," he said.
ISS Russian Transport
NASA grounded its shuttle fleet after the Columbia spacecraft disaster, when that space ship disintegrated on re-entry, killing the seven astronauts carried aboard on February 1, 2003. Since then, Russian spacecraft have been the only link to the multinational space station.
"I think it is a service to the memory of the crew of the Columbia that we continue our work in space," NASA's Chiao told reporters. "I think exploration is something that is really innate to the human organism and something that kind of separates us from the other forms of life on earth."
Yury Shargin from the Russian Space Forces will also travel into space and spend 10 days in orbit before returning to Earth with the outgoing ISS crew.
The Expedition 10 backup crew is made up of Valery Tokarev of Russia and William McArthur from NASA.