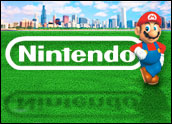 With an eye toward the upcoming holiday season, Nintendo on Wednesday announced a US$50 price cut on its Wii U gaming platform and rolled out a brand-new portable gaming system priced at just $129.99.
Slated for release on Oct. 12 in red or blue, the new Nintendo 2DS is an entry-level gaming system that plays all Nintendo 3DS and Nintendo DS games in 2D. The new system features the same internal hardware as the 3DS, in fact, but without the stereoscopic 3D functionality and with a new slate design that replaces the hinged "clam shell" form factor of the original.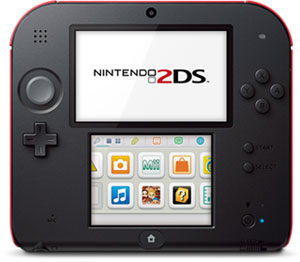 Its twin displays will have the same sizes as the original system. Moreover it will feature dual camera lenses on the backside and can still be used to take stereoscopic photos; to view them in 3D, however, the photos will need to be transferred to a 3DS.
Nintendo did not respond to our request for further details.
'The Perfect Move'
Nintendo "obviously felt the need to bolster 3DS sales with a cheaper version aimed at a wider consumer audience," George Chronis, industry analyst at DFC Dossier, told TechNewsWorld. "The 2DS is not a cheap unit in construction or versatility by any means, but it is different — more toy than cutting edge consumer electronics.
"That's not a bad thing where the target is families with young children," Chronis added. "While there is concern that uncovered screens can be scratched, we don't remember all that many complaints about open-faced Game Boy back at the turn of the century."
The larger slate design of the 2DS won't be as easy to stash in a backpack like a DS Lite, but "for a family road trip, using the two screens in this format is no hardship," he suggested. "Therefore, the 2DS seems like the perfect move for Nintendo at the perfect time to grow sales."
3D Goes Flat
It's no secret that video game sales have been more or less flat in 2013, and interest in 3D movies and TV has waned as well. Content providers on TV have pulled back 3D support, and the year has seen fewer movies presented in 3D too.
In this way, Nintendo might have been an early supporter of a technology that wasn't quite ready.
"Some people can't appreciate it, some can't even see it," independent video game analyst Billy Pidgeon told TechNewsWorld. "This is an example of Nindendo trying to get ahead of something that wasn't there."
'Under Assault'
The new 2DS could open the platform to a wider audience and also give Nintendo the extra ammunition it needs to defend its dominance in the handheld space — especially as mobile phones continue to offer competition.
"The dedicated handheld game space is under assault," Pidgeon asserted. "How viable can it remain as smartphones have the processing power to be serious game machines?"
However, "neither Google Play nor the Apple App Store is exploiting it right now," Pidgeon said. "Google is starting to get it, but Apple still doesn't. Microsoft could also develop some traction there."
In the meantime, though, "having a lower-priced option can increase the opportunities for Nintendo," he concluded.
'Facing a Catastrophe'
As for the Wii U, it "had a weak first half and has not engaged the consumer much at all in 2013," said Piers Harding-Rolls, director of the games platform at IHS Electronics and Media. "It has suffered due to a lack of content and consumer awareness about the platform and its unique proposition."
Given increased competition from Microsoft's upcoming Xbox One and Sony's PlayStation 4, a price cut was expected "and will be welcomed by retailers," Harding-Rolls told TechNewsWorld.
Of course, "as the price drop only refers to the premium bundle, the Wii U entry price to the consumer has not been dropped," he noted. Rather, it's "only an increase in the value-proposition."
Indeed, the price drop didn't come as a surprise, but it's likely to have any significant impact on sales, Chronis agreed.
"Nintendo is facing a catastrophe with the Wii U that $50 in savings is not going to fix," he concluded. "The bundling with The Legend of Zelda: The Wind Waker HD will definitely lift sales, yet we question by how much and for how long."