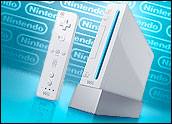 Most people have heard about the Nintendo Wii Remote, which some avid gamers have allowed to slip out of their sweaty hands and fly into their high-priced big-screen televisions, cracking glass and becoming the catalyst for news stories around the world.
In addition to making the news with its Wii video game console, Nintendo will start offering it free to its customers starting Sunday.
The company will launch an online news service featuring worldwide stories and photos, provided primarily by The Associated Press, The Associated Press reported on Thursday.
The Wii consoles must be connected to the Internet and have the Opera Web browser installed in order to receive the news channel. The Wii console already has an interactive channel menu that lets users browse the Web, shop online for games, leave messages for family members, share family photos, and get a local weather forecast.
Like the weather forecast channel, the news channel will allow users to choose geographic locations around the world to view local reports.
Catering to Wii Demographics
Nintendo's decision to offer free news is groundbreaking, because it's far from what most people expect gamers to be interested in; however, Nintendo might be changing the game world with it's family-friendly Wii.
"Wii owners will include nongamers, including more younger and older users, as well as more females," Billy Pidgeon, a program manager for IDC's consumer markets gaming group, told TechNewsWorld. "These groups probably find AP news by region more useful than hardcore gamers."
Contrasting the Wii with the big game console competition — Sony's PlayStation 3 (PS3) and Microsoft's Xbox 360 — Pidgeon said the PS3 and 360 are more likely to be used for playing games online, as well as downloading games, game demos, game preview videos and, to a lesser extent, music, video and films.
"News on the PS3 or the 360 might work if it were highly customizable to player interests rather than a general AP feed," Pidgeon said, noting that Wii's news feature would be even more valuable to Wii users if it could provide sports or entertainment news to the user's specifications.
The So-What Question
The news feature is undoubtedly cool, but will it have a substantial impact on Wii sales? Nintendo projects selling more than 6 million Wii consoles by the end of its fiscal year in March.
"The Wii News Channel and the Wii Weather Channel aren't going to move any hardware, but they are features that will make the Wii owner feel better about their purchase," Pidgeon said. "The most compelling Wii Channels for selling units are the Mii Channel and the Wii Shopping Channel, where users can buy classic back-catalog games."