Nintendo on Thursday announced the Nintendo Switch handheld gaming console, its long-awaited successor to the poorly received Wii 2.
The US$300 Switch will hit the streets March 3. Purchasers will get the console, two Joy-Con controllers, a Joy-Con Grip, a set of Joy-Con wrist straps, a Nintendo Switch dock, an HDMI cable and an AC adapter.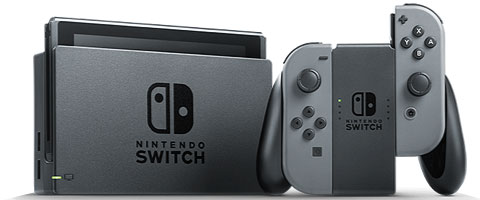 The Switch has a 6.2-inch capacitive multitouch screen and a kickstand.
The Switch can be used as an independent handheld player. Battery life ranges from 2.5 to 6 hours.
Up to eight Switches can be connected over a local WiFi network for multiplayer games.
However, Nintendo will need to sell a lot of Switches for this feature to be useful, said Rob Enderle, principal analyst at the Enderle Group.
Ready to Rumble
Both Joy-Con controllers include advanced HD Rumble technology, which gives players haptic feedback for increased realism.
The controllers can be used separately — one in each hand — or together as one game controller attached to the Joy-Con grip. Players can attach them to the main console for use in handheld mode, or share them with friends for use in two-player games.
Each Joy-Con has an accelerometer and gyro-sensor, giving players independent left and right motion control, and each can act as a standalone controller.
The left controller has a Capture Button for taking screenshots to share on social media; the right one includes an NFC touchpoint for interaction with Amiibo figures, and an infrared motion camera that can detect the distance, shape and motion of nearby objects in specially designed games.
"The Joy-Con controllers seem to be [the Switch's] best feature," said Christine Arrington, senior analyst for games at IHS Markit.
"The demonstration of in-person, face to face competition brings back that paradigm that was so compelling to users with the original Wii," she told TechNewsWorld.
Games Lineup
Among the games slated for the Nintendo Switch:
MarioKart Deluxe 8 — available April 28;
The Legend of Zelda: Breath of the Wild, and 1-2-Switch — available March 3;
Just Dance 2017 and Has Been Heroes — March 2017;
NBA 2K18 — September 2017;
The Elder Scrolls V: Skyrim — fall 2017; and
Minecraft, FIFA, Ultra Street Fighter II: The Final Challengers, Disgaea 5 Complete, Dragon Ball Xenoverse 2 and Puyo Puyo Tetris — to be determined.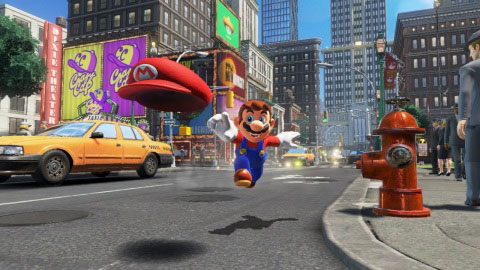 Nintendo Switch software won't be region locked, so it will be available pretty much anywhere.
New Online Service
Nintendo also announced a new online subscription service available for free trial March 3. It's full rollout is slated for the fall.
The service includes a smart device application that will let users invite friends to play online, set play appointments, and chat with each other.
How the Switch Stacks Up
The Switch is available now for preorder, but "sadly, I'm not tempted," Enderle told TechNewsWorld.
The Switch's best feature is that it's "a tablet designed for games, so it has a really decent gaming interface," he said. "This is likely what the Wii U should have been but wasn't."
However, it lacks content and is "the only consumer tablet that doesn't support key services like Netflix and Amazon Prime Video, severely limiting its overall utility," Enderle pointed out.
Still, the Switch "is an important evolution of Nintendo's vision with the Wii U of making a console that can transition from TV gaming to tablet-style gaming," observed IHS Markit's Arrington.
The Wii U "did not take it far enough. There wasn't really a compelling argument to spend more on the Wii U when consumers had a Wii and a tablet," she added.
Nintendo likely will sell 4 million Switch units this year, based on current estimates.
It should "perform better than the Wii U," Arrington said, "but we don't expect sales to rise to the level of the Wii."