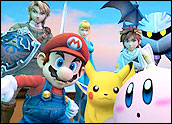 Nintendo has long been known for surprises, but it caught the gaming world off guard on Thursday, when North American COO Reggie Fils-Aime revealed the 3DS XL during a Nintendo Direct video post.
At the Electronic Entertainment Expo trade show earlier this month, Nintendo used its annual press conference to tout its upcoming Wii U console system for the living room. While many upcoming game titles for its 3DS handheld system were announced, what the company didn't say was that a new version of the system was in the works as well.
The new duo-screen system reportedly will be 90 percent larger than the previous version, with a 4.88-inch top display and 4.18-inch screen on the bottom. The system will also offer improved battery life and a new form factor.
While Nintendo executives had previously suggested that its designers were already working on the next handheld, the company has never passed up an opportunity to refresh existing hardware.
"Nintendo has a history of rolling out iterations of their handheld devices, and the 3DS XL follows that tradition," said P.J. McNealy, consultant with Digital World Research.
Beyond the Core Gamer
Nintendo is the one company of the big three console makers — the other two are Sony and Microsoft — that has video games as its core business. But the 3DS XL seems to be moving from that path.
The system, which will be available on August 19 for US$199.99, is apparently designed to be ideal for video content from the 3D Nintendo Video Service as well as third-party content partners such as Netflix. Does this mean Nintendo is moving away from its core focus on games and trying to appeal to a broader segment?
"The XL versions of their handhelds are for a different slice of the consumer segment, and are typically more focused for in-home use," McNealy told TechNewsWorld.
While this system is a bit pricier than the standard 3DS, that shouldn't be a concern to gamers, he added. "The pricing is competitive, as Nintendo is pretty good on managing hardware costs."
Why Now Instead of E3
The timing of this move also is interesting, in that it didn't occur at this month's E3, where Nintendo has traditionally introduced new systems, including handhelds.
"The reason was that there were already many questions about the Wii U, and introducing this system could have run the risk of overshadowing the chief announcement at the show," said Scott Steinberg of TechSavvy Global.
While the announcement choice may not represent a missed opportunity, it's possible Nintendo missed a different opportunity, Steinberg added.
"Having a bigger screen should provide a better experience, but the size of the device might be a problem. Bigger doesn't always mean better," he told TechNewsWorld. "The real missed opportunity is the lack of a second thumbstick, and that isn't going to please the developers who wanted it there in the first place."
Will the Jumbo 3DS Take on Mobile?
Nintendo's commitment to core gamers has established the company's longstanding dominance in the handheld space, and over the years it has fended off rivals including Sega, Neo Geo and even Sony. But it has been facing increasing competition from smartphones and tablets, which offer easy to download app-based games and can be used for more than just saving princesses.
"There are increasingly multifunction devices that are challenging Nintendo," said Steinberg.
This could be prove to be a challenge that even Mario and Link, the hero of the popular Zelda franchise, can't easily win.
"While the 3DS XL is a nice hardware refresh — especially for those who don't want to squint at a small screen — this might not be enough," remarked Steinberg. "They are selling to a subset now, and the biggest audience for this device is going to be the same core gamers that they've been appealing to all along. For Nintendo, it is a losing battle."