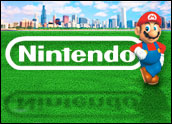 Nintendo has once again gone straight to gamers with its latest Nintendo Direct video to generate hype for its latest offerings. The video game console maker and game publisher announced Friday that popular characters will arrive for the Nintendo Wii U and Nintendo 3DS handheld system.
The latest Nintendo Direct primarily focused on games coming out this summer. Those include the Game and Wario title for the Wii U, which offers a variety of minigames that can be used with the Wii U's unique GamePad, and New Super Luigi U, which will be available as either a downloadable version for around US$20, while the retail version would sell for about $10 more.
The biggest gaming news from Nintendo Direct, however, wasn't actually from Nintendo, but rather one-time rival Sega. It announced that a Mario and Sonic Olympics game would arrive in time for next February's Winter Olympics. Sega is also prepping the exclusive Sonic: Lost Worlds, a new adventure for the Wii U and 3DS.
The other announced titles included updates of past games, which almost resembled a summer of reruns.
"It is recycling of the old titles," said independent video game analyst Billy Pidgeon. "It is still a good idea as they are discounting the titles, and these are still 'new' to a generation that hasn't played them, but to the others who have played it before it doesn't bring a whole lot."
Nintendo did not respond to our request for further details.
Direct Assault
What is also notable is that Nintendo's title announcements attempted to build hype for the upcoming Electronic Entertainment Expo (E3) — where the company won't actually hold a press conference this year.
That move is newsworthy because Nintendo practically created the trend in large press events that accompany the show and made it an annual tradition.
"To me E3 is really for the press, and while there are some gamers who do watch that stuff, there is another aspect to it," Pidgeon told TechNewsWorld. "Showing up at E3 and putting on a show has become a tradition and has generated something to talk about it."
Microsoft will jump the gun slightly when it officially unveils its next console in advance of the show, so perhaps Nintendo sees this as a better way to use its resources.
"It is understandable that Nintendo is not going forward," Pidgeon added. "The market for consoles has peaked, and it is even starting to shrink. It isn't going away, but the expansion potential isn't there."
The decision, however, sends a message "that E3 isn't that big of a deal, at least to Nintendo and at least this year," he said. "Sony and Microsoft have new hardware so they have to hold a big flashy event, but it still sends a message when you don't show up with an event. It even sends a message to the press, who often love to hate Nintendo."
The question is whether going direct via these videos is going to be a strategy that plays out for the company, especially given that the Wii U hasn't exactly been a hit on par with the first generation of the Wii.
"Clearly Nintendo views this as a way to reach out directly to the customers and explain the value proposition of the 3DS as well as the Wii U," said Lewis Ward, research manager for gaming at IDC. "The 3DS is doing well, while the Wii U has underwhelmed, so Nintendo may view this as a strategy of reaching more customers in a relatively short time frame."
Going to the Gamers
However, Nintendo is still going directly to the source. The company's other big news was that it has formed a new partnership with Best Buy that would bring E3 demos of the upcoming games to select stores throughout the E3 event. Consumers will be able to go to those to those stores to play the same games that attendees are seeing at the show.
"The assessment of executives at Nintendo is that they haven't done a good job of conveying the message of the value of the Wii U to gamers themselves," Ward told TechNewsWorld. "They are seeing that they need to convey that differentiation to the gamers. Nintendo has done this type of onsite events and offering a road show in the past, so this fits the tradition of doing things at retail. It is a way of reaching prospective customers."
However, is going to a large retailer such as Best Buy the best move to make? That remains to be seen, considering Best Buy has had its own problems with bringing in customers.
"Bringing out trials to Best Buy is a good idea, but it would be more impressive if they showed up at GameStop and other retailers as well," said Pidgeon. "However, Nintendo needs to be marketing the Wii U aggressively at retail to get people to try it. It is a better sell when you have a hands-on, as with the Wii U. You really need to try it, as there are a lot of things going on there that you don't get bymerely watching the demos."
Missing Titles
What the Nintendo Direct also highlighted was that owners of the system might have that much to look forward to, at least in the short term. This could prove to be a bad move, as gamers may opt to wait forthose upcoming systems from Microsoft and Sony.
"It is tough for the Wii U and they should be talking pipeline and it should be more than Sega," said Pidgeon. "A lot of third parties were missing. But they also need to highlight the pipeline even with first party titles. There is a lot of emphasis on the short term updates."
One notable absentee was Electronic Arts, which according to media reports has virtually no Wii U titles in the pipeline. Without EA — one of the largest game companies — on board, that could pose problems for Nintendo."The EA news is a blow for sure," said IDC's Ward. "(Nintendo) are trying to counter that by releasing some positive news."
The problem is that there may not be enough positive news at this point.