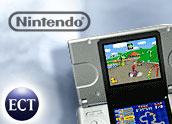 Gaming console giants Nintendo and Sony are enabling music and video playback on their popular gaming devices in an effort to dominate the lucrative market, expected to account for sales of $2 billion in the United States this year.
Sony's PlayStation Portable (PSP) went on sale in Japan this week and essentially sold out its first production run of 200,000 within the first day. The device supports MP3 playback, video playback with small DVD-like disks, and also offers USB and WiFi links.
It will be introduced in the U.S. and Europe next year, priced at US$150. Sony says it will ship some 500,000 units by the end of the year and will not increase production, despite the strong demand already shown in Japan.
Sony has been the dominant manufacturer in the console gaming market, in part because of its large software library and the PlayStation2's backward compatibility with earlier games.
Battling for Stronghold
Nintendo, however, has dominated the portable market. The Game Boy, introduced in the late '80s, positioned Nintendo for complete dominance, said Jay Horwitz, Senior Analyst for Jupiter Research.
"Nintendo has fended off competition with hit titles and serious price discipline for its hardware, although Sony has a strong brand name and very enthusiastic users," he said.
Nintendo is fighting to maintain its stronghold with the DS (for "dual-screen") game system, which went on sale in the U.S. in November and in Japan earlier this month. The DS is currently a game-only device, but Nintendo said today that it will offer an adapter that allows an inserted memory card to play music in the MP3 format and video in the MPEG-4 format. The adapter, which will sell for about $47, will go on sale in February in Japan.
Even without the added capabilities, the DS has been wildly successful so far. Some desperate parents, unable to find it on store shelves in time for Christmas, are turning to eBay to purchase the units, where they can be priced high above the suggested retail price of $150. Nintendo is expected to ship an additional 400,000 units later this month.
Diverging Paths
Horwitz said the two manufacturers are taking very different paths to lure consumers. "The PSP has the same controller components as its TV console version, while the DS has a different take on portable game systems," he said. "Nintendo is trying to create a new experience, to carry over the console experience into the portable market. For instance, the DS offers two screens, one of them touch-enabled, which is a new interface technology."
Despite the media attention generated by the audio-video capabilities, Horwitz said that "non-game functionality has not fared particularly well in the past, with the exception of DVD playback. These are features that are nice to have, as long as they don't impact the price point or the ability to play games."
Compared to dedicated digital music players, he explained, the handhelds are larger, with battery life an issue. Instead, he expects WiFi, once it has been completely enabled, to be the more important addition, since it would allow a gamer to compete with anyone, any place, at any time.
In any event, stay tuned, as the battles are likely to intensify. "There have been many failed attempts in the portable gaming market," notes Horwitz. "This market is costly and risky, and it has seen lots of road kill."