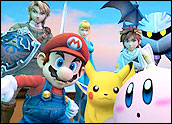 Nintendo has issued a warning for parents of children under age 6: If you're planning on giving the kid a Nintendo 3DS when the device is released early next year, keep it in 2D mode.
The 3DS is a portable video game system capable of displaying 3D games without the use of special glasses. However, the warning (originally posted on Nintendo's Japanese site and translated to English here) urges parents to use the 2D feature of the device instead if their kids are less than six years old.
Nintendo isn't the first company to issue a health warning about 3D-related technologies. For example, Sony and Samsung issued similar warnings related to their own products earlier this year.
All three indicate certain symptoms — including convulsions, altered visions, eye or muscle twitches, involuntary movements, loss of awareness and disorientation — might manifest among some users.
Sore Thumbs, Tired Eyes
For some time, Nintendo has maintained a warning page on its website directed at parents. It focuses on several potential product dangers, from battery leakage to repetitive motion injuries.
The page, which is in English, warns that about one in 4,000 people may suffer seizures or blackouts, and it suggests parents monitor their kids when the latter are playing video games.
Anyone who suffers from convulsions, disorientation or other symptoms should stop playing video games and seek medical attention, Nintendo says.
The maker also recommends that video game players reduce the likelihood of a seizure by staying as far from the screen as possible when playing, using the smallest available TV screen for their games, playing in a well-lit room, taking a break hourly, and not playing if they are tired or short on sleep.
Multidimensional Grief
In warning its users about potential dangers inherent in viewing 3D content, Nintendo joins other companies that have issued similar warnings.
In July, Sony updated the PlayStation's terms and conditions of use with warnings about potential risks. In April, Samsung issued its own warning on 3D TV viewing.
Both of them issued warnings that are fairly similar to that from Nintendo.
Why People Get Affected
Apparently, a significant percentage of people can't properly see 3D images rendered on a TV or movie screen, and that can lead to headaches and other problems, according to the American Optometric Association.
Such people have vision misalignments or don't have equal vision in both eyes. There are anywhere from 1 million to 9 million such people in the United States, the Association claims.
Symptoms experienced by those unable to comfortably see 3D images vary from person to person. A survey by the Association showed 13 percent of those who can't see 3D images suffer from headaches, 12 percent from blurred vision, and 11 percent from dizziness.
Here's why 3D images cause headaches and other problems in people with vision flaws: Humans have binocular vision, in which we see things from a slightly different perspective with each eye. The resulting images are correlated in the brain to create one view. It helps us to calculate distance, among other things.
This mechanism is thrown askew when we view 3D images rendered on a screen. There are two basic methods of creating 3D images: with glasses and without glasses. In either case, each eye gets fed a different image. That throws off our depth perception, fooling the brain, as it were, into believing what we see is right in front of us.
The eyes of people who have problems with 3D can't cope with or correlate these separate images properly, which leads to their suffering various problems when viewing 3D content.
"Whether with or without glasses, the technology provides separate images to both eyes, and some people aren't wired for this, so they get sick or suffer seizures," Rob Enderle, principal analyst at the Enderle Group, told TechNewsWorld.
Still, 3D images aren't wholly a curse — they can help unmask vision problems such as lazy eye, convergence insufficiency and poor focusing skills, the AOA said.
The American Optometric Association did not respond to requests for comment by press time.
Calls to Nintendo USA weren't answered, as the company's offices are closed for the holidays.
Saw It Coming
Perhaps Nintendo acted after getting user complaints, Laura DiDio, principal at ITIC, speculated.
"3D hasn't been around long enough for us to really assess its impact, so people are just beginning to find out the problems it might cause," DiDio told TechNewsWorld.
Nintendo unveiled the 3DS at the E3 Expo in Los Angeles this past June. It's set to go on sale in early 2011.
However, consumers are also responsible for the health problems they experience, DiDio suggested.
"You get kids playing games for hours without interruption," DiDio said. "That's a scary thing."