Gamers eagerly awaiting the September launch of Grand Theft Auto V got a sneak preview on Tuesday with the release by maker Rockstar Games of the first gameplay trailer for the upcoming title.
Due Sept. 17 for the Sony PlayStation 3 and Microsoft Xbox 360, Grand Theft Auto V promises to deliver a massive world along with seemingly limitless options for the players, if the nearly five-minute trailer is anything to go by.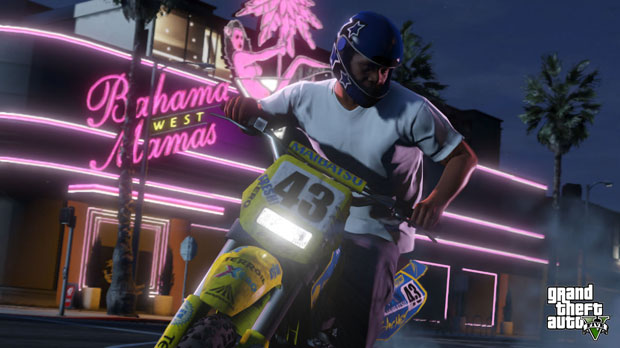 Rockstar had previously offered some tidbits about the game, including the fact that it will feature three lead characters. From the new trailer, however, it's become clear that players will be able to switch roles among the trio of anti-heroes and live vicariously through each during missions and in-between jobs.
New game mechanics are apparently on the way as well, including the ability to take on heists using the player's brains — by feeding gas into vents to knock out customers at a high-end jewelry store, for example — or brawn, such as via a traditional stick-up with guns blazing.
Rockstar did not respond to our request for further details.
Grand Theft World
The new trailer also provided more details on the game's setting of Los Santos — clearly a fictionalized version of Southern California — which is complete with high-end stores and pristine beaches as well as slums and street thugs.
"It struck me as an L.A. version of The Sopranos or an R-rated version of The Sims, with the openness of it," said Lewis Ward, IDC's research manager for gaming.
As with past Grand Theft Auto games, the story is built around a series of missions — mostly heists and other nefarious activities — that are played out within a seemingly open-ended world.
Players can explore and customize their characters, with changeable clothing and even tattoos. They can also assemble crews to help pull off scores. At the end of the day, they can spend their ill-gotten gains on flashy cars or invest in what appears to be dynamic stock and real estate markets.
"This game offers that giant persistent world, but with the dark side that you don't see in The Sims," Ward told TechNewsWorld. "You can engage in a huge level of activities, criminal or otherwise."
'It May Cause Some Controversy'
Indeed, that dark side has generated considerable controversy over the years, and this latest iteration will likely keep the debate going, particularly in light of tragedies such as this past year's shootings in Newtown, Conn.
"Rockstar has a long legacy with GTA, and this game was started many years ago," Ward noted.
"They have a loyal fan base, and they have certain expectations," he added. "It may cause some controversy, but that won't send sales into a tailspin."
Triple A Title
In fact, while officially dubbed Grand Theft Auto V, this latest title is actually the seventh in the series, which began in 1997 with the original 2D isometric view-styled Grand Theft Auto. This was followed by the 1999 sequel, but it wasn't until the 2001 release of Grand Theft Auto III that the game hit its stride.
Over the years the series has striven to provide a cinematic experience and has attracted film veterans including Peter Fonda, Michael Madsen, Ray Liotta, Burt Reynolds and Dennis Hopper to lend their voices to the characters.
However, with each new title it has taken longer for the developers to produce the games, suggesting that things haven't been rushed.
"There is no doubt that the 'triple A' budgets and time frames have grown," Ward suggested.
The End of an Era
"What's key to maintaining vitality for a series such a Grand Theft Auto is the span between releases — the most recent full-game title in the series was GTA IV, which will be some five and a half years old when GTA V arrives," Steve Bailey, analyst for games at IHS Electronics and Media,told TechNewsWorld.
"When people have such enormous expectations of a single-player experience as they do with GTA V, annual releases can be difficult to maintain unless there's a significant service-element aspect accompanying the experience — as with Call of Duty's online multiplayer — or a sizable refresh of the game setting, as with Assassin's Creed," Bailey added.
While it is unlikely that this will be the end of the line for the GTA series, it is notable that this particular release is coming at the end of Sony's PlayStation 3 and Microsoft's Xbox 360 era. In that way, it could be the last big hurrah for those systems.
Concluded Ward, "GTA V is likely to show off what is possible with the seventh-gen consoles."