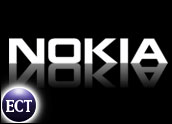 Nokia introduced its first big touchscreen phone in London Thursday: the 5800 XpressMusic, formerly known as the "Tube." While Nokia isn't positioning the phone outright as an iPhone killer, it certainly shares some similarities of the popular Apple device — and one that really jabs at Apple's strength: music.
While Apple has iTunes and its easy integration with iPhone and iPods, Nokia's 5800 will rock with the company's Comes With Music service, which will offer one year of unlimited access all the music in Nokia's Music Store catalog. The size of that catalog: about 5 million tracks, which come with the backing of the major music labels, including EMI, Sony BMG, Universal Music Group and Warner Music Group.
"Trying out a music recommendation is spontaneous, as customers can download without worrying about the cost of an album or a track — the freedom and simplicity of the service is unparalleled. And Comes With Music gives you unlimited access to the millions of tracks in the Nokia Music Store and the music is all yours to keep — because it's not a revolution unless you get to keep your music," noted Tero Ojanper, executive vice president and head of the Nokia entertainment and communities business.
Beyond the Tunes
"It really is a more of a feature phone device, but because it's Nokia's first touchscreen device it's hard not to position it as competition to the iPhone," Chris Hazelton, research director of mobile and wireless for The 451 Group, told TechNewsWorld.
He noted that while the 5800 is not a top-of-the-line N series Nokia device, it does offer a strong set of features. "It offers the ability to multitask, it has 3G, it has a touchscreen, it has a software QWERTY keyboard like the iPhone," he explained.
First, the screen: While it doesn't support multi-touch like the iPhone, it does provide haptic feedback — a vibration response that users can feel. Hazelton, who demoed a unit this week, noted that the performance of the touchscreen was just average for the market.
"My feeling is there is another phone that will build on Nokia's experience with building a touchscreen that will compete more with the iPhone," he said.
The 3.2-inch 640 by 360 pixel screen is bit narrower than the iPhone's, and its display has a 16×9 aspect ratio. It also features a 3.2 megapixel camera with Carl Zeiss lens as well as a flash. It's capable of recording high-quality video at 30 frames per second. It comes with 8 GB of memory card.
Text input is similar to the iPhone — software-based keyboards on the screen — but 5800 users can also opt to tap out messages with a stylus or or the included plectrum, a.k.a. a guitar pick, which fits with the music theme of the device.
It also can handle multimedia messaging services, e-mail, chat, video calling, and its built-in browser includes Adobe Flash support. That means more Web pages will render correctly than those brought up on the iPhone, which doesn't support Flash.
"The browser is very, very good," Hazelton said.
Contacts for Your Life
"The Nokia 5800 XpressMusic turns a 'user interface' into a 'human interface' by truly putting people first. For example, we've introduced the Nokia Contacts Bar, which is like a digital RSS (Really Simple Syndication) feed on your life," said Jo Harlow, vice president of Nokia,
The Contacts Bar lets consumers highlight four favorite contacts on their home screen and, through a single touch, track a digital history of recent text messages, e-mails, phone logs, photos and blog updates.
The 5800 XpressMusic will support 60 languages worldwide and ship this year, while a version featuring Comes With Music will first be available in early 2009.