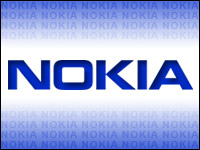 So far, no mobile phone company has been able to make subscribers dance to its tune with a wildly popular, downloadable-to-handset music service. Yet Nokia, the world's biggest maker of mobile phones, still wants in on the action, so it's announcing that the first handset preloaded with its Comes with Music service will be sold in the United Kingdom in October.
The subscription-based service is already making news in the tech press and analyst community with one big difference: Once a year passes and your Comes with Music membership comes to an end, you'll still be able to keep all the tracks you downloaded.
After England starts swinging with Comes with Music — via Carphone Warehouse, the country's largest phone retailer — Nokia says the rest of Europe and Asia will get their chance at the service. That's likely to happen sometime next year.
Comes With Challenges
Despite its status as the leading global mobile phone brand, Nokia has some significant hurdles to climb with Comes with Music.
"Mobile music has been a pretty tough business," David Chamberlain, principal analyst with In-Stat, told TechNewsWorld. "It's a lot of work, it's a lot of bandwidth, you need a huge catalog, and — at least here in North America — the lawyers are always watching you very carefully, because the moment one of your files shows up on the peer-to-peer networks, the lawsuits start flying. There's so much taken out of it for royalties and expenses and everything, it's not much of a business."
It is a business that's expected to grow, according to Gartner, which projects digital music phone sales to hit US$13 billion in 2011, compared to $4.4 billion this year. Nokia is taking steps to make sure it has the lion's share of those sales by allowing users to keep the music post-subscription, and offering Comes with Music on its basic, entry-level handsets — not just the more expensive and technologically complicated phones.
Also, Nokia is offering up a 3-million-song catalog at launch from Warner, Universal and Sony music labels. The company is said to be in discussions with EMI. All songs will be protected by digital rights management (DRM) software.
Nokia vs. Apple?
Even though other companies are trying to roll out global music services like Comes with Music, the real target is Apple and its iTunes service on its 3G iPhones. It may be why Nokia is designing its service as a buffet-style, all-you-can-eat business model rather than the pay-per-track or album system iTunes now uses.
"iTunes was a success long before the iPhone came along," Chamberlain said, "and in the big picture of things, the iPhone is a small piece of the iTunes business."
The Nokia brand may have the cachet needed in other parts of the world to take on Apple and other mobile music players, Chamberlain said. Different attitudes at different latitudes concerning DRM may also help.
"The rules about digital rights management are far different in Asia," he remarked. "It's one of the reasons why full-track downloads are so incredibly successful in Korea and Japan. They're not paying the kinds of royalties on a percentage basis as they are in North America."