The Noorio B310 security camera has two features you will not find with most outdoor security cams — dependable local storage and a built-in floodlight.
This combination makes the Noorio B310 the perfect solution to safeguard your home's outdoor boundaries. It is loaded with state-of-the-art features and advanced technology to make this device a game-changer for home security.
Its 2K high-resolution lens with a 140° field of view (FOV) provides ultra-clear video footage. Its highly sensitive microphone allows you to see and hear every detail.
Alerts are instantly pushed to the smartphone app, which is compatible with Android and iOS. Upon receiving an alert, users can either tap the 600-lumen spotlight button to illuminate any intruders in the dark or press the alarm button to sound a Klaxon buzzer to frighten away the intruder.
The spotlight settings are adjustable and can be focused on specific areas requiring extra attention or set to be motion-activated.
Advanced night vision technology allows for continuous property monitoring 24/7, and the floodlight's brightness and light color temperature are adjustable from a cool to a warm glow.
Overall, this Noorio outdoor security device is one of the better ones I have used. A relative newcomer to this field, Noorio is not yet a household name, but it has an impressive inventory of security devices to butt heads with the big guys on the block like Arlo, Nest, Ring, and Wyze.
Its name comes from the word "Noor," meaning light, and reflects the company's commitment to illuminating lives with seamless integration and peace of mind through its smart home security solutions.
Comprehensive Features in a Compact Design
The Noorio B310, a globe-shaped device measuring 4.13 x 4.13 x 3.66 inches and weighing 1.7 pounds, can be installed anywhere Wi-Fi reaches without the need for intricate wiring.
Many outdoor systems do not handle piggy-backed wireless connections well. For testing purposes, I located the unit as far away as possible to get a weak signal indicator on my smartphone. Then, I added a Wi-Fi booster inside the back of the house and had a solid connection to the Noorio at a distance of about 60 feet and passing through three walls.
The onboard AI feature enhances detection performance and reliably alerts users of suspicious activity. Its intelligent algorithms distinguish between humans and other objects, eliminating false alarms and ensuring immediate notification in the event of a potential security threat.
Unlike other outdoor security cameras, the Noorio B310 has free 16 GB local storage, which can hold up to 6,000 pieces of footage. The stored recordings remain until you delete them. There is no time limit before the captured images are erased if you do not subscribe to a cloud storage backup plan.
The Noorio B310 is IP66 waterproof, allowing it to withstand rain, snow, and other harsh weather conditions for uninterrupted functionality in any season.
For added convenience, Noorio offers a 30-day trial period for its extended cloud storage service. Once users set up the Noorio Wi-Fi connection, they can activate the toggle to start the offer.
Smart App and Voice Command Features
The B310 security camera is compatible with Alexa, allowing convenient camera control with voice commands to view the live feed without using the phone app.
Some devices offer this option for both Alexa and Google Assistant. I use Google stuff, so I could not try out how well the voice-activation works. Google Assistant support is in development, with delivery expected in the coming months.
The Noorio app is one of the better-designed solutions I have used for controlling internet of things (IoT) home devices. The app lets you view live video feeds, adjust camera settings, receive alerts, update firmware, and playback recorded footage on your smartphone or tablet. Additionally, you can take photos from the live video, save incident recordings, and share or export from the security camera itself.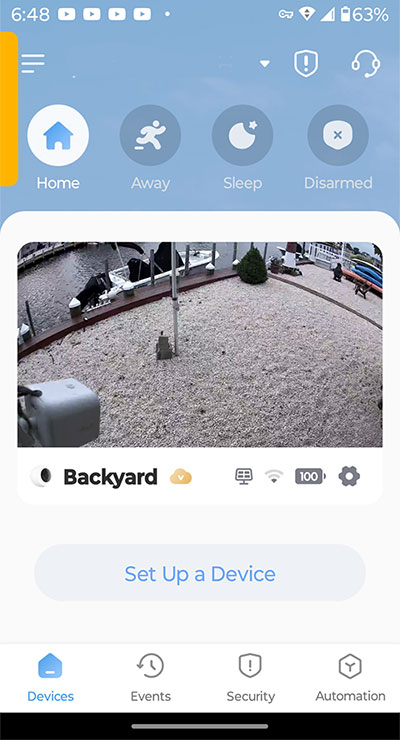 I especially like several of the unique AI-powered options built into the B310. One is the "Person Only Alerts," which ensures that alerts are pushed only for human transgressions.
Another handy benefit is the ability to control the camera on multiple cell phones and tablets. The only requirement is they all must be able to log into the Noorio App with the account ID linked to the camera.
Almost Flawless Installation
Attaching the camera to an outdoor fixture is fairly simple. Noorio provides two screws and a sticker with pre-marked hole spacing.
The box also includes a two-piece screw-mount mechanism, which easily attaches to the round camera.
The company offers an alternative method with a magnetic bracket that holds the metal camera casing in place.
My Noorio experience involved a few minor mishaps. I usually cringe in anticipation of setting up security devices through mobile apps and setting up this security cam's installation was a bit more involved than it should have been.
The skimpy user manual, as is typical, avoids detailed words in favor of sketchy diagrams and picture frames. The two-page spread needs a better direction to set up the connection before installing the camera on its lofty perch.
To get started, you must press and hold a tiny sync button on the top side of the device directly below the cable for the solar panel. That activates the camera and some brief verbal directions to make a temporary Wi-Fi connection between your phone and the camera globe.
The next step requires a photo scan of a tiny QR code equally hidden at the top of the globe.
A workaround in the manual says that you can instead scan the QR code printed on that page. You guessed it: That QR code failed to work.
Overcoming Firmware Update Hurdles
Then came a related issue — a similar snafu occurred when I decided to update the firmware several days later. I had to scan another QR code to download the firmware packet for that process.
Then, in a similar set of steps as the initial installation, I had to upload the firmware from the smartphone to the camera. Halfway through the 15-minute process, an error message popped up on the phone that the upload failed to be verified.
I started again and met with the same results. Only this time, the B310 failed to reconnect to the Wi-Fi. To fix this, I had to redo the initial setup routine.
I have not yet attempted to update the firmware again. I'm sure many users would similarly balk. That, however, is a bad decision to leave undone. One of the significant security breakdowns with IoT devices is not updating firmware.
Pricing and Hardware May Vary
The product box I received also only had a USB cable with no power plug to charge the camera. Instead, I used an existing third-party solar panel that worked fine to constantly recharge the camera's internal batteries without undoing its installation.
Noorio also sells its own solar panel separately for $49.99. The solar panel is a better option unless you have a nearby electrical connection for recharging or can easily reach the camera without climbing a ladder.
Pricing varies, sometimes drastically. The Noorio online store has the B310 2-Cam Kit listed for $200 off at $299 at the time of this writing. Amazon has the same kit priced at $225.99. Both of these kits come with 16GB of local storage.  A 32GB model was selling on Walmart.com for $299.99.
Bottom Line
Finding a reliable, feature-rich outdoor wireless security camera for the home can be challenging. The consumer market is flooded with sub-par home security cameras that disappoint in their durability and performance.
The Noorio B310 wireless home security camera changes that situation as there is nothing mediocre about it. This device comes with powerful features, can withstand foul weather, and offers full-color night vision or black-and-white images to conserve power.