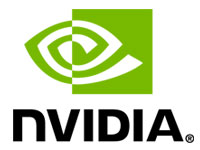 Nvidia will begin taking preorders for its US$349 Shield handheld gaming device on May 20, and it will begin shipping at the end of June. Formerly known as "Project Shield," the portable gaming system features a 5-inch pop-up screen that is connected to a handheld game controller.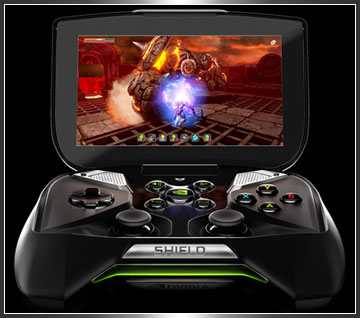 The Shield can display images in 720p (1280×720) resolution; it runs on the 1.9 GHz Tegra 4 chip and features four CPU cores and 72 graphics cores.
The system features an HDMI video output allowing it to connect to a TV, and it supports a maximum output resolution of 3200×2000, which actually surpasses the resolution of most Full HDTV sets, making it somewhat future-proof for displaying video content.
It runs on the Android 4.1 operating system, aka "Jelly Bean," and it supports select PC games streamed from a computer equipped with an Nvidia GeForce GTX 650 graphics processor.
Nvidia did not respond to our request for further details.
Shield at Full Power
The Shield is equipped with 2 GB of RAM, and it features 16 GB of internal storage, plus a micro-USB 2.0 port, GPS, Bluetooth 3.0, and a microSD card slot for storage expansion. There are integrated speakers as well as a headphone jack. Shield is equipped with 802.11n 2×2 MIMO WiFi for streaming games from a PC.
This is a lot of power for a handheld system, but it's uncertain whether gamers will be willing to pay the price for it, and whether the Shield will translate into a serious revenue stream for Nvidia.
"Shield's pricing is on the competitive side, considering the processing power, and it is definitely targeting a niche tablet market segment — hardcore game enthusiasts," said independent video game analyst Billy Pidgeon.
"The most interesting aspects of Shield are the built-in controller and the possibility of using Shield in conjunction with game streaming from the PC, hinting at future Android second-screen scenarios," he said.
"As the profit margins on hardware are slim and Shield is aggressively priced, I don't believe this will contribute to Nvidia's bottom line," Pidgeon told TechNewsWorld.
However, "Shield can be a successful marketing tool," he added, "as the tablet is a great showcase for Nvidia technology and for Android as a gaming platform."
PC Streaming
Unlike a traditional tablet, the Shield isn't limited to Android games. However, even with the ability to play PC games — select PC games, at that — the library is somewhat limited.
This is typically the case with any new system; however, in this case, Nvidia isn't trying to draw in players with new games but rather with titles that could be fan favorites.
To play them isn't all that simple, however.
"You have to have a GTX 650 or later card in your PC," said Lewis Ward, research manager for gaming at IDC. "Basically, at launch it will be able to stream about 20 or so games, including popular triple A games."
These games can be streamed from a local PC via the Steam gaming service. Even with plans to ramp up the service, it isn't clear if gamers — apart from the more tech savvy — will be willing to jump through the hoops to actually get the games running.
"There will be some initial confusion with the games, but I don't think it will be a problem from the perspective of most gamers," Ward added. "The people that have a GeForce on their computer are the kind of people who already know how and like to tweak the settings for PC games. This is the demographic Nvidia is going for."
Shield Disruption
What Shield is up against is another consideration. It is arriving at a time when the video game industry is actually seeing declining sales and greater competition from numerous devices — and when the two top hardware makers are preparing to launch new systems.
"It's an interesting time in the video gaming market, because as the traditional console makers move to becoming entertainment centers, more singular-function focused devices, such as the Shield and Ouya, are making their way to the market," noted video game consultant P.J. McNealy of Digital World Research.
"At the end of the day, these new devices will have to choose," he told TechNewsWorld. "Do they want to grab share in a single media vertical, or set themselves up as a takeout candidate for a larger media play?"
Further, "if the Shield, Ouya and a box from Steam all show up in the next year, is there really enough room from core or mid-core gamers to buy any or all of these devices?" McNealy wondered. "And what happens to the consumer budget when the next Xbox and PlayStation are available? Consumer budgets aren't limitless, and there will be more casualties such as OnLive."
Of course, gamers are a unique breed who really do go above and beyond when it comes to their passion. Shield, unlike Ouya or OnLive, is still aimed as much at the core gamer as the casual gamer, and that could make the difference.
"This does provide a way to cross-play PC games on devices, which is going to be attractive to those PC gamers who have a GeForce card in their computers," said IDC's Lewis.
"This is a way to play the games in the next room or the backyard, and that could be a way to get people to pick up a Shield before the end of the year," he suggested.
"However, it is going to be an uphill battle to make Shield a success," Lewis emphasized. "Not only are they competing with consoles and the latest tablets and smartphones — they are competing with the game-optimizing handsets such as Nintendo 3DS and PlayStation Vita."