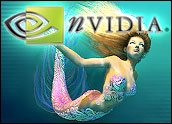 Nvidia came out Monday with a handful of announcements expanding its presence in the gaming world well beyond the graphics processing units for which it's best known.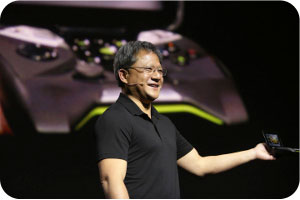 Nvidia CEO Jen-Hsun Huang introduces Project Shield at CES 2013.
Taking the stage at CES 2013, Nvidia CEO Jen-Hsun Huang introduced Project Shield, a prototype handheld gaming console with a high-definition screen, as well as the Nvidia Grid Cloud Gaming Platform — essentially a gaming server that will be marketed to companies serving broadband carriers.
Nvidia also announced its Tegra 4 system on a chip.
"Nvidia kicked a lot of butt in their CES opener," Rob Enderle, principal analyst at the Enderle Group, remarked.
About the Tegra 4
The Tegra 4, touted as the world's fastest mobile processor, consists of an Nvidia GeForce graphics processing unit with a quad-core ARM Cortex A-15 CPU.
It includes computational photography architecture, which combines the processing power of the CPU, GPU and the Internet service provider to enhance mobile imaging. This enables the first always-on high dynamic range camera, with features including live HDR preview, instant HDR photos, HDR video, HDR burst and HDR flash.
The Tegra 4 also has a second-generation battery-saver core for improved battery life.
The SOC includes Nvidia's Icera soft-modem chipset to provide 4G LTE capability.
Nvidia has set up TegraZone to offer games that are optimized for the SOC.
Nvidia's Grid Cloud
The Nvidia Grid Cloud Gaming Platform is a server with specialized hardware and sophisticated streaming and virtualization software, the company said. It simultaneously delivers up to 36 times more HD-quality game streams than first-generation cloud-gaming systems, while reducing lag.
Nvidia's selling the server to six companies who sell their services to broadband carriers.
A Grid rack has 20 Grid servers, with 420 GPUs and 200 Tflops. That's the equivalent of 700 Xbox 360s, but consume one-fifth the power and take up much less space, Nvidia said.
"This is a standard rack-mounted high-performance server approach," Enderle told TechNewsWorld. "It will be faster, better and cheaper because it's designed from the components up to optimize for this use. In effect, we are moving from single-vendor proprietary systems to industry-standard products, with Nvidia driving the standards,"
Never Mind Nick Fury, Nvidia Rules
Project Shield is built around the Tegra 4, and Huang demonstrated the console streaming games from Google Play as well as Steam. Its batteries last for up to 10 hours of gaming or 24 hours of video watching.
The console has a 5-inch 720p HD retinal multi-touch display, custom bass-reflex tuned port audio systems, and offers 802.11n connectivity with a 2×2 MIMO chipset for high-speed WiFi streaming. It runs the latest version of the Android Jelly Bean operating system.
It has micro-USB, micro-HDMI, microSD and WiFi connectors and a 3.5-mm audio out port.
"Rather than crippling the console gaming experience on a handheld, this is a handheld system that can outperform consoles," Enderle remarked. "This product effectively obsolesces the other game approaches in the market and creates something that can outperform all of them."
Project Shield is not a gaming console in the traditional sense, but a portable gaming device, Nvidia spokesperson Steven MacDonnell told TechNewsWorld. "The company expects to make money on the hardware, not by creating a new walled garden of software. It's an open platform so it has access to thousands of free and inexpensive Android games as well as major PC titles."
The Flaw in the Shield
However, Project Shield is quite a way from being ready for primetime.
"You can stream games from your PC to the Project Shield device only if you have a GeForce Grid card in the PC," Lewis Ward, research manager at IDC, pointed out.
"Beyond that, [Shield] is basically a 5-inch touchscreen Android tablet so you can only play Google games," Ward told TechNewsWorld.
Further, there's a paucity of games available for Shield at present. "There are 25 games on TegraZone that are controller-compatible, and Nvidia executives have told me that there a few hundred Google games that are controller-compatible," Ward continued.
Games have to be optimized for 3D, have fast twitch and good sound effects in order to exploit the Shield controller to the max, and "there are less than 200 such games," Ward said.