Nvidia is expanding its Shield line of gaming products with the launch of a gaming tablet and accompanying wireless controller.
Designed for high performance, the tablet is powered by Nvidia's Tegra K1 processor, which includes 192 graphics processing unit cores. It will be frequently updated with software updates designed to draw stronger performance and additional capabilities from the hardware. The tablet follows on from the release last year of the Shield Portable handheld device.
The tablet has an eight-inch screen with 1920×1200 resolution for full 1080p high-definition video. It features dual front-facing speakers and a dual bass reflex port with a built-in microphone, along with WiFi and Bluetooth connectivity and optional LTE connectivity. It has 2 GB RAM, 5 megapixel front- and rear-facing cameras, a gyroscope, an accelerometer and a compass. It weighs 13.7 ounces, and measures 8.8 x 5.0 x 0.36 inches.
Controller Focus
There's an optional cover consumers can add to protect the screen or use as a kickstand. The wireless controller, also optional, is designed for use with both Android tablets and PCs. It uses WiFi Direct connectivity, which reputedly offers lower latency than Bluetooth-based controllers.
It also has an integrated microphone that can be used for voice commands, along with a headset jack, touchpad and volume controls.
The tablet can run Android games that support the Shield platform or stream games from owners' PCs. Consumers will be able to stream games from Nvidia's Grid cloud platform as well, though it is currently in beta and available only to Shield owners in Northern California at present. Meanwhile, users can connect the tablet to TVs for big-screen gaming through a mini-HDMI port.
Players can opt to stream their games on Twitch, and overlay an image of themselves in their stream using the camera. The tablet is the first device to use Nvidia's ShadowPlay game-capture function.
Android Apps
Since the tablet runs on Android KitKat, users can surf the Web, listen to podcasts and music, and watch movies through its access to Google Play. They also can opt to use the included stylus to create art or take notes through handwriting recognition.
The tablet is preloaded with the Shield Hub app, which is the focal point for discovering Shield-optimized games, and for launching games and apps. It comes with platform game Trine 2, which has been optimized for the Tegra processor.
Classic games such as Half-Life 2, Portal, The Walking Dead, and several titles in the Grand Theft Auto series are available to play on the tablet. However, the paucity of high-profile exclusives might prove a drawback for the device.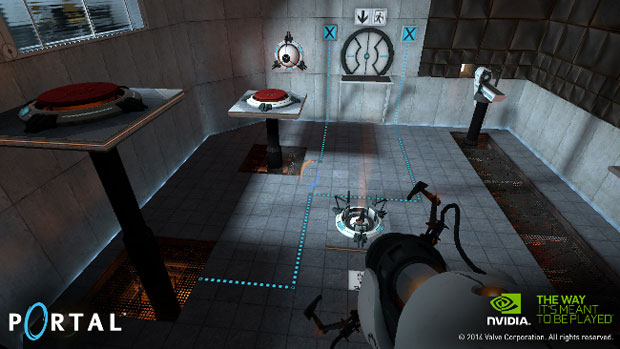 Portal, winner of more than 70 industry awards, is available exclusively on both the Shield tablet and Shield portable. Portal is a hybrid of first-person shooter and puzzle-style game that creates a new genre of spatial brain teasers, offering hours of unique gameplay. Set in the mysterious Aperture Science Laboratories and noted for its humorous writing, the game requires players to solve puzzles and challenges by opening portals, maneuvering objects and moving themselves through space in mind-bending ways.
'Desirable Exclusives'
"One major weakness of the Shield ecosystem is the lack of desirable games exclusives," said Piers Harding-Rolls, head of games at IHS.
"Android games playable on the TV or ports of old PC games are not enough to sell this device to the dedicated gamer," he told TechNewsWorld.
"The ability to stream games from a GeForce GTX-equipped PC over home WiFi via the device to the TV — in the same way the Shield console already does — is attractive, but only to a small subsegment of PC gamers," said Harding-Rolls. "If Nvidia can extend its cloud gaming proposition beyond a select beta test in California, then this would widen the desirability significantly."
Pricing for the tablet is US$299 for the 16-GB model and $399 for the 32-GB version (storage is expandable up to 128 GB with a MicroSD card). The controller costs $59 and the cover $39.
All three products are available for pre-order in the U.S., Canada, and some European countries, including the UK, France, Germany and Spain. The tablet and controller will start shipping on July 29 in the U.S. and mid-August in Europe, Nvidia spokesperson Jordan Dodge told TechNewsWorld.
'Technical Beast'
The Shield tablet "is a technical beast, like the original Shield handheld," said Lewis Ward, games research director at IDC.
"It looks like it's got about twice the frames per second as the iPad Air. It basically has the power of a pretty high-end PC in the palm of your hand, which is what you would expect a company like Nvidia to produce. It's great on the hardware side," he told TechNewsWorld.
"The huge weakness, as with the original device — which as far as I can tell has not sold very well at all — is the games catalog," Ward added.
"The number of optimized games for the controller feature, which is really a differentiation piece, as far as I can tell is about 175 games. So, it's just too small of a games catalog. Until there's some breakout MOBA (multiplayer online battle arena)-type hit on smartphones and tablets, where a controller interface makes a huge difference on the outcome, I'm just skeptical that a device like this is going to sell well," he said.
"Compared to other gaming tablets on the market, the price — at $299/299 euros/Pounds 229 for the WiFi version — appears well pitched," Harding-Rolls said.
"We have already seen Xiaomi's Tegra K1-based MiPad enter the market at a moderately lower price point, but it is not curated for the gamer in the same way as the Shield Tablet is. However, pricing alone is not enough to entice adopters if the value proposition across content and services does not complete the picture for the consumer," he pointed out.
"Nvidia's direct-to-consumer sales strategy is much less developed in markets outside North America," Harding-Rolls noted. "The company has significant work to do to build out its capability here."