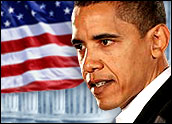 Facebook now has some new "friends:" the United States Secret Service, thanks to a startling weekend poll appearing on the world's largest social network that asked the question, "Should Obama be killed?"
The poll provided four possible answers: "Yes," "No," "Maybe," and "Yes if he cuts my healthcare." Some 750 people had responded to the poll before Facebook members alerted the network and it removed the survey.
Threatening the life of the president is a federal crime, so the Secret Service began its investigation Monday, and Facebook is cooperating with the agency, company spokesperson Barry Schnitt told TechNewsWorld.
"This was not a Facebook poll or even an application devoted to the poll," Schnitt said. "Instead, it was a third-party application that enabled users to create their own poll. The vast majority of these polls are innocent and trivial — 'What should I wear on Friday?' 'Did you like the ending of Transformers 2?' etc. Someone created the offensive poll in question using the app, and we took the entire application down as soon as we were notified to ensure that the developer was responding to reports of inappropriate, user-generated content."
Yet that user-generated content is at the very heart of social media's appeal, and third-party apps are a way to not only engage Facebook members but also make money through potential advertising revenue. The Obama poll incident has thrown a harsh spotlight on the vetting process for both social media networks like Facebook and its third-party app providers.
Who's Ultimately Responsible?
The man who created the app that was used for the Obama death poll, Palo Alto, Calif.-based developer Jesse Farmer, says what happened here is just one aspect of the Web's freewheeling nature. "There's a broader issue here about user-generated content and the Internet," Farmer told TechNewsWorld in an email. "I'm not the first person to have a problem like this."
Farmer did not elaborate, but he did send a link to a posting on the Inside Facebook blog by Eric Eldon, which focused on the problem of questionable user-generated content — the methods for detecting such content, who's responsible for policing it, and how difficult it can be for a small company like Farmer's to wade through thousands of polls created each hour. Eldon reports that Farmer's app has more than 3.5 million registered users.
Facebook has asked Farmer to exercise more vigilance when it comes to poll content, and he has agreed. "Facebook and I are working together to detect these polls earlier." That was a condition for being allowed back in the Facebook app family, and Farmer says that his app — not the Obama poll that was created using it, of course — was reinstated mid-afternoon Monday.
"The application was immediately suspended while the inappropriate content could be removed by the developer and until such time as the developer institutes better procedures to monitor their user-generated content," Schnitt said.
The Promise – and Peril – of UGC
"Sometimes social media brings out the best in people, sometimes it's the worst, and sometimes it brings out the stupid," said Lon Safko, social media entrepreneur/consultant and coauthor of The Social Media Bible. "What happened on Facebook was an unfortunate mistake. The important thing about a mistake is not that you make it; it's how you take responsibility for it and fix it. Facebook removed the poll immediately upon notice. The poll went up, they were notified, it went away. In the past, there have been a lot of social interactive sites that weren't that responsive. Craigslist was one of them, which has now changed."
The Obama poll incident, Safko told TechNewsWorld, is as much a story of human nature as it is about social media — a story that goes back to the mainstream Internet's beginnings, with offensive content quickly finding a home for anonymous fans on the Web. "The great thing about social media is the social conscience and the self-policing. I am sure that it was an astute social citizen that first alerted Facebook to the poll, and it was quickly removed," Safko said.
However, what about advertiser concerns that their brands might appear next to inappropriate content? When it comes to advertisers who use contextual advertising — where their ads pop up thanks to software that makes connections between brand and content — the same media rules that applied in the offline world are also relevant online, Safko said. "As an advertiser, you have two choices: Understand that it was an isolated instance and roll with it, or pull your advertising as you would with a newspaper or magazine you advertise with that ran a distasteful op-ed piece. With online advertising generating so much revenue, having such an effective delivery system to such a targeted audience, my advice is, get over it."