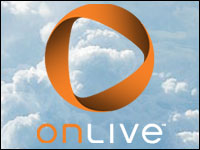 Online game service OnLive is bringing its cloud magic to smartphones and tablets.
The pioneer in cloud-based gaming has introduced a free app that allows gamers to play console-style games on their smartphones and tablets.
Although the application was announced Thursday, when it appears in app stores will vary. For example, a quick check of the Apple App Store Thursday revealed that the app hadn't appeared there yet.
Streaming Games From Cloud
In addition to being able to play OnLive games on a WiFi network, owners of devices like the HTC Jetstream, Samsung Galaxy Tab and Motorola Xoom will be able to play them on 4G LTE networks.
More than 25 titles, including "L.A. Noire," "LEGO Harry Potter" and "Defense Grid Gold," have been customized to work on touchscreen devices. To play other games in the OnLive library, which includes "Batman: Arkham City," "Assassin's Creed" and "Lord of the Rings," OnLive's Universal Wireless Controller, which the company also introduced Thursday, will be necessary. It will be available soon for $49 in the United States and pounds 39 in the United Kingdom.
OnLive allows high-powered games to run on relatively low-powered devices by moving the software's processing demands from the device to the cloud.
"They've done an admirable job," Scott Steinberg, a video game consultant and principle in TechSavvyGlobal.com, told TechNewsWorld.
Essentially, OnLive is video streaming games, he explained.
"So it's not surprising to see them roll out this capability to devices which are increasingly being built to support on-demand video," he said.
What's Appropriate?
However, there's a difference between streaming games designed for big screens and keyboards or controllers and sending them to devices with small screens and no real keyboards.
"The big question is simply what types of games are appropriate," Steinberg noted.
For example, one of the mobile games offered by OnLive is "L.A. Noire."
"That's an adventure game," Steinberg observed. "It has some action elements to it, but it's not as hyperkinetic as a fighting game like 'Street Fighter' or 'Mortal Kombat,' nor does it have as many controls as a 'StarCraft.'"
Another challenge to the mobile app will be how fast it responds to a player's commands. In a shooting game, for instance, a lag between the time the trigger's pulled and when the shot goes off can severely impair a gamer's experience.
"Onlive has been able to address the latency issue fairly well across the broadband connection," Barry Gilbert, an analyst with Strategy Analytics, told TechNewsWorld.
Untethering Gamers
The question will be how effective OnLive's system will be on a cellular network.
"Across a 4G network using LTE, it might be a lot better than it will be going over 3G," he said.
"Anything above 50 milliseconds round trip for some of these high-end games simply won't support what a high-end gamer is looking for," he explained.
Nevertheless, on-demand gaming, just like on-demand content in other entertainment areas, is the direction that the industry is going. "Clearly the direction, longer term, is to be able to provide gamers with options that are untethered," Gilbert noted.
"What OnLive is doing," he added, "is providing some options for these gamers to take their games anywhere they want to go, from the tethered environment [of the console] to a commuting environment, where they're on their way to work or school or whatever, and be completely untethered in their access and continuation of the game."