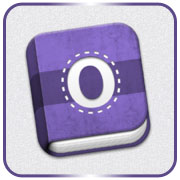 Outline is available from the Mac App Store for US$39.99.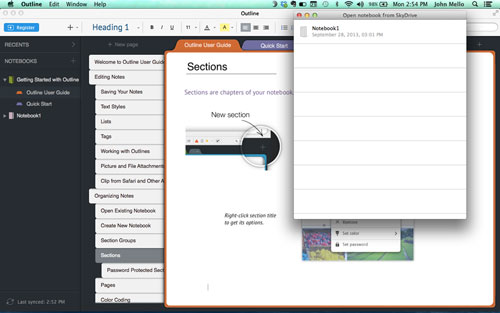 (click to enlarge)
Note-taking applications are very popular with many users, and that's probably why developers have flooded Apple's Mac App Store with those kinds of programs.
A notable exception, though, has been Microsoft. That's not to say it has ignored the thirst of note-takers — it makes a robust outline-notepad hybrid called OneNote. The thing is, it doesn't make it for the Mac.
That omission has attracted the attention of some Mac developers, however, and among them is Gorillized Corp.
Gorillized just released version 2.0 of its Mac answer to OneNote. While Outline is available from the Mac App Store for $39.99, Microsoft sells OneNote for Windows for $69.99.
Real World Notebook Emulation
Like OneNote, Outline mimics an analog notebook. You fill a notebook with "pages." Unlike a page in a paper notebook, though, Outline's pages are unlimited in length.
The pages in the Outline's notebook can be organized into sections that can be password-protected and that appear as tabs on top of the content area of the app. Sections can be further organized into section groups containing several sections.
Beside the content area is a list of pages in a section. When you create a page, you can give it a title to make it easier to identify in the page list.
To the left of the page list is a list of your notebooks as well as the section groups and the sections in them. The section groups and sections form a tree under a notebook. They can be hidden when not in use.
The setup makes it easy to keep a notebook organized. Within a notebook, you can roll up sections you're not immediately working on so they don't distract you. Within the notebook pane, you can roll up all its section groups and sections to give more real estate to other notebooks in the pane.
Intuitive Interface
Creating new notebooks and adding pages, sections and section groups is very intuitive. There are plus signs at the top of the notebook and page list panes for instantly creating new notebooks and pages. A plus sign over the content area creates a new section.
Right-clicking a notebook, section or page brings up a menu to perform some essential functions, such as cut, copy and paste; set the color of a tab; reorder pages; create new sections or section groups; and remove pages, notebooks and sections from the program.
Text inside notes can be styled in a number of ways — as headers, for example, or as bold, underlined or italic text. Unfortunately, you can't change fonts. You're stuck using the sans serif font chosen by the developers.
When you start typing in a note, a gray box appears around your text. It's called an outline and can be resized and moved around the page. For folks who just want to take notes, this approach to text entry may require a period of adjustment. What it does do, however, is make a page more like a real notebook where you can write anywhere on a sheet of paper.
Better Sharing Needed
A very nice feature of Outline is its ability to synchronize its notebooks with those created with OneNote online. You can't, however, create notebooks in OneNote from Outline.
One place Outline falls down is in sharing notebooks. You can export individual pages in PDF format, but not entire notebooks. Support for a word-processing format like Word or Pages would be a welcome addition, as would some support for sharing with social media like Facebook.
Much like OneNote, Outline goes beyond the notebook metaphor to create a powerful program for taking and organizing notes. Better yet, it does so without losing the simplicity of its real-world analog.
Freeware Spotlight
DeskConnect is available from the Mac App Store for free.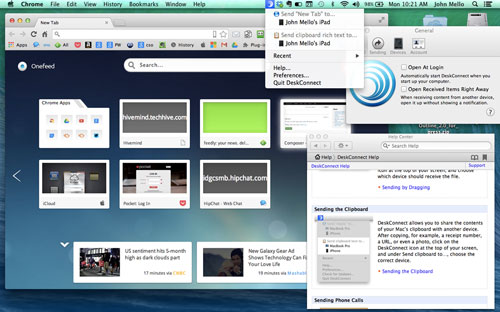 (click to enlarge)
How often have you emailed items to yourself to share them with your other Apple devices and thought, "There's got to be a better way to do this!"
Well, there is. It's called "DeskConnect."
DeskConnect is a free app that you can install on your Mac and iOS devices to directly share photos, documents, Web addresses and clipboard contents without a "middleman" like email or an online storage service like iCloud or DropBox.
After installing the app on a Mac and setting up an account, you can drag items to an icon on the Apple toolbar or choose an item from a drop-down menu and send them to your other Apple devices where you've installed the program.
What's more, if you've installed DeskConnect on your iPhone, you can dial phone numbers on it from the Contacts app on your Mac.
Convenient Swapping
Moving items from a Mac with DeskConnect is a more direct experience than it is on iOS. For example, if you have a Pages document open, you can click the DeskConnect icon and choose a device to send it to from a drop-down menu.
On the other hand, if you're working on a Pages document on an iPad Air, you have to tap the share icon, choose to open the document in another app, choose a format for the document and then choose to open the document in DeskConnect. Once open in DeskConnect, you can ship the document to your Mac.
Setting up URL swapping is also a fussy process in iOS. That's because you have to create a bookmarklet to do the swapping. On a Mac, the URL of any open Web page can be sent to an Apple device with a click of the DeskConnect Apple bar icon.
Instructions for setting up the bookmarklet are clear, but dated. They use iOS 6 icons, which can be initially disconcerting.
Although DeskConnect could use some streamlining on the iOS side of things, the app provides a convenient way to swap items among Apple devices without worrying about a middleman.